5 Best Ways to Secure Your Front Door
Front Entry Door Security
Do you think your home is burglar-proof? Even if you have window locks and think there are no weak points, it could be your front door that lets you down in the end. According to recent Department of Justice statistics, most break-ins are committed by intruders who go straight through your front door, rather than breaking windows or the back door.
The reason why is they seem to know despite it being the primary entry point to a property, homeowners don't do enough to secure it. This could be because they wrongly assume that no-one is likely to have the guts to bust down the front door. Regardless of the reason, though, the bottom line is if you want to improve the security of your home, you can do a few easy things to ensure your safety.
Not sure what you should do, aside from investing in a new tougher lock? You've come to the right place as we're going to go over 5 of the best ways to secure your front door.
*I hope you'll love the products I recommend! Just so you know, Plumb and Lined may collect a share of sales or other compensation from some of the links on this page.
Add a Commercial Grade Deadbolt
Does your home have a good quality deadbolt? No? Then you need to get one right away. Deadbolts are high value, low-cost additions to your existing security system. There are several different types of deadbolts available, including single-cylinder and double-cylinder.
Single-cylinder deadbolts require a key on the outside to open and have a lever on the inside, while double-cylinder ones require a key on both sides. Even though having a key on the inside might increase the security against break ins, if there is a window next to the door for example, they aren't safe in the case of needing to make a quick exit in case of an emergency. For that reason, they are not legal in many jurisdictions.
When it comes to picking out your new deadbolt, don't bother with cheap, low quality units. The most important thing to look for when choosing one is that it carries the ANSI Grade 1 designation.
The ANSI Grading System was developed by The Builder's Hardware Manufacturers Association (BHMI) and takes into consideration how long the lock will last and overall toughness, as well as latch strength. Grade 1 is the highest rating, reserved for heavy duty commercial deadbolts. They are tested to 1 million opening and closing cycles and can withstand at least 10 strikes with 75 pounds of force. Click here to check out my review of the best deadbolt locks for your home.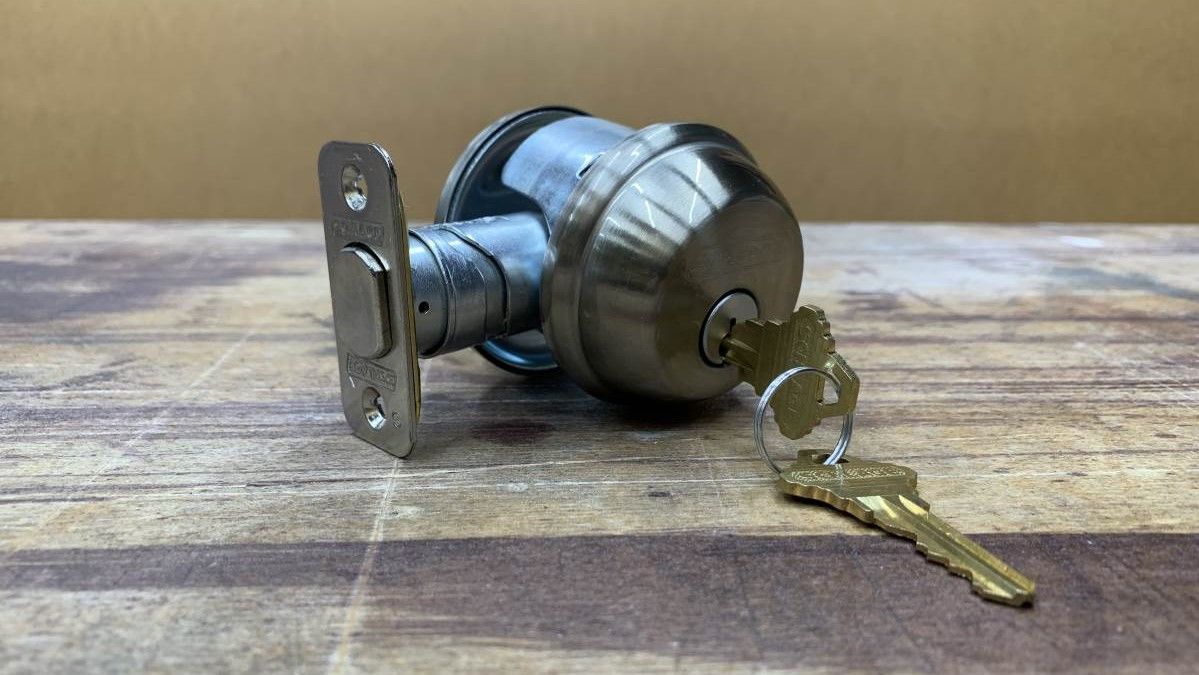 What is The Best Door Lock Brand?
After installing hundreds of entry locks and deadbolts over the years, I almost always recommend Schlage. In terms of price, value and quality, Schlage is hard to beat. And coupled with the ease of installation, they are the clear winner. My favorite deadbolt is the B690 – It will fit any standard pre-drilled existing door and the unique snap and stay design that holds the deadbolt in place while the screws are being tightened makes it super easy to install. ANSI Grade 1, great resistance to drilling and it is available in all of the popular finishes.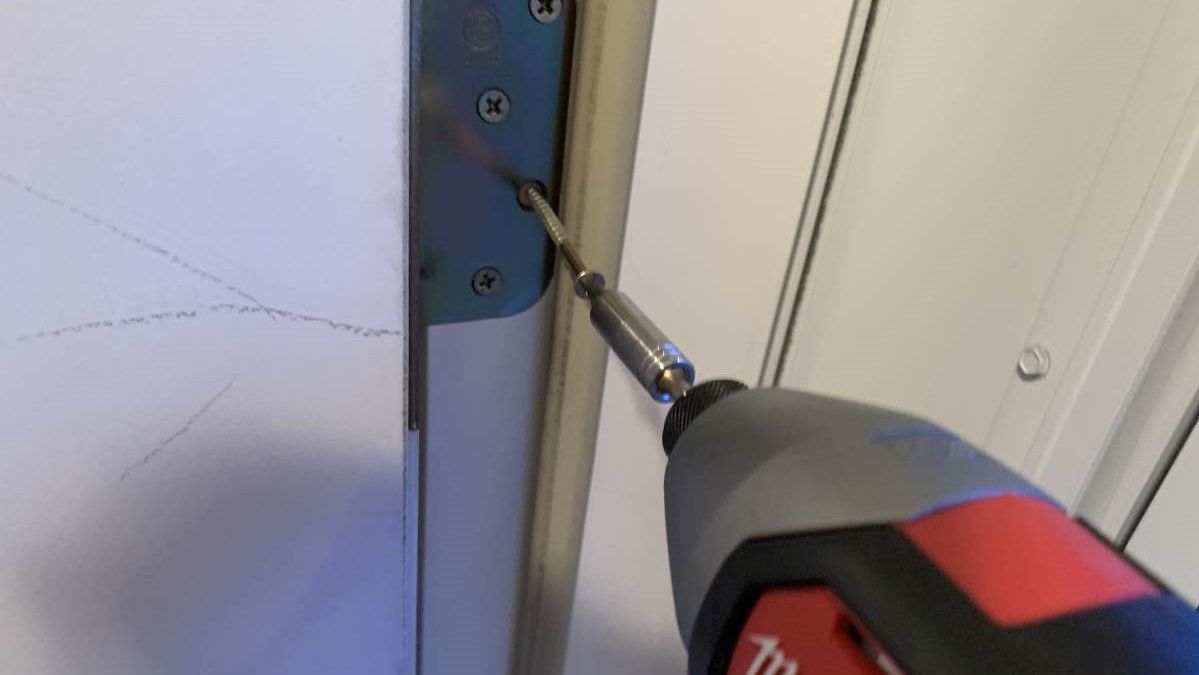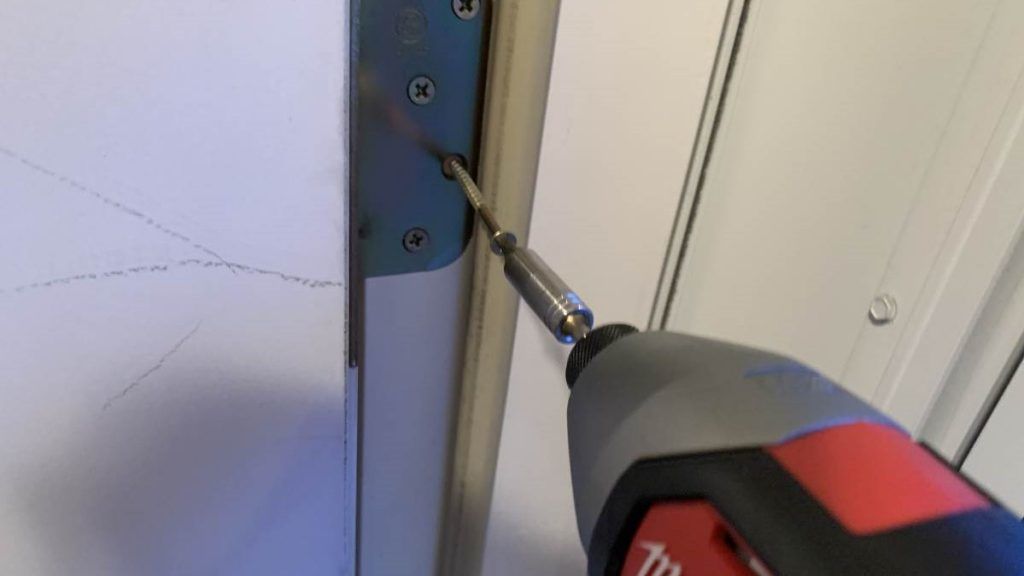 Replace the Strike Plate and Reinforce the Hinges
Two of the weakest points on any door are the strike plate and the hinges. The trouble is that the screws only go into the door jamb about ¾". It is relatively easy for someone to kick in the door, either splitting and cracking the door jamb or just blowing out the short screws. A simple and easy fix is to replace them with 3" long screws that will anchor the hinges and strike plate securely into the framing studs in the wall.
For the next level of protection, consider replacing the strike plate with a stronger aftermarket model. Two great options for strike plates are:
The Battalion Box Strike Plate. Made of steel with a width of 1 1/4" and length of 4 7/8", and has a fully enclosed box to house the deadbolt latch.
The Tuff Strike Deadbolt Strike Plate Reinforcer. This one features two 4 ½" long heavy duty posts that are embedded into house studs and a lengthened strike plate with longer screws. This is a great way to reinforce the door jamb and deadbolt lock. It is easy to install and there are four different finishes available so you can find the most suitable one that matches the hardware already on your front door.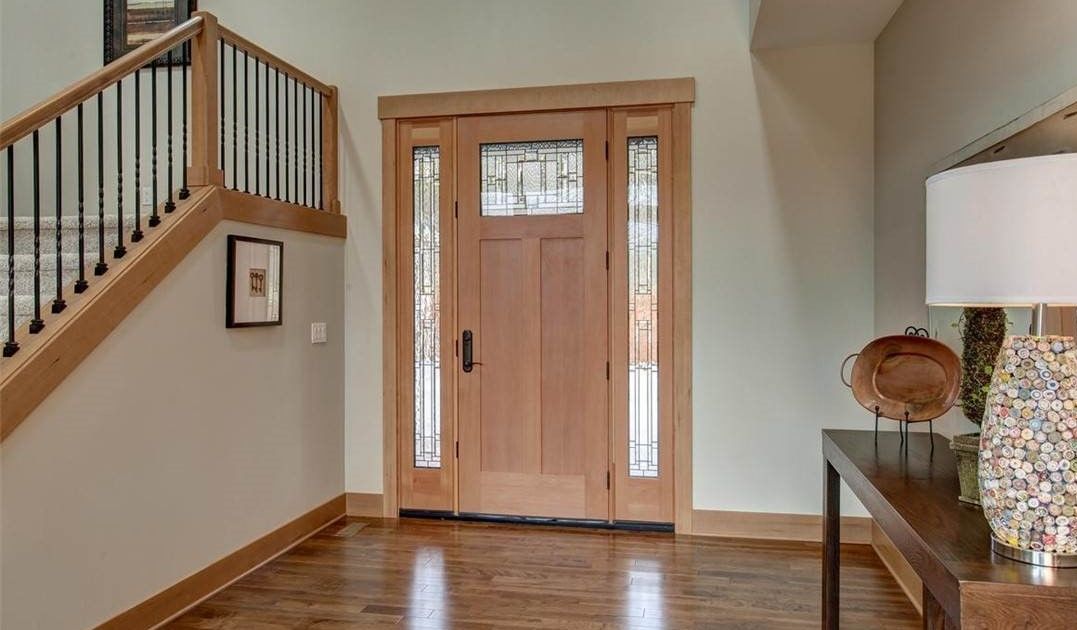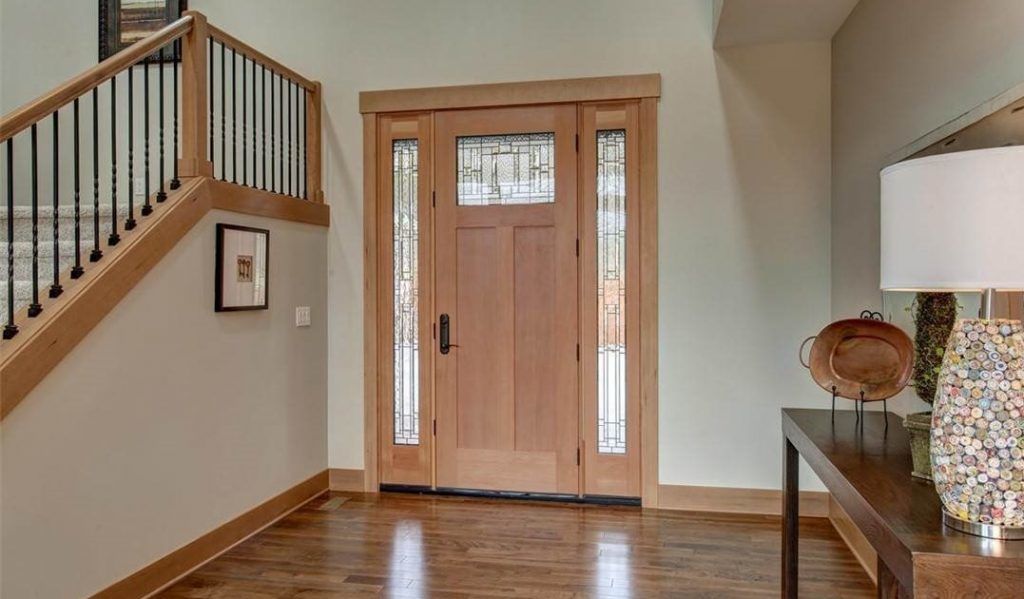 Install a Reinforcement Door Lock
Do you remember those chain locks we all used to have on our doors to supposedly keep us nice and safe from thieves and other assorted bad guys? Back then they seemed like a good idea, but were really only good for answering the door to cold callers and door-to-door salesmen. They probably were great at keeping honest people honest, but not much else.
The WINONLY Open Childproof Door Reinforcement Lock has an ingenious design that is easy to install with only a drill. With four 3" long screws driven through the door jamb and into the stud, this reinforcement lock can withstand up to 800-pounds of force against the door. That's 12 times tougher than a deadbolt on its own. And its grooved design makes it easy to open quickly if you ever find yourself in an emergency.
Install a Floor Mounted Barricade
One of the very best ways to secure a front door from the inside is to install a floor-mounted door barricade. These are a great solution for double entry doors too.
The Nightlock Door Barricade is one of the most inexpensive, effective and strong options to use. It's easy to install and does not require any complicated tools. You just need a screwdriver, drill and a bit. It will work with any kind of flooring, provide that you have the right drill bit. With solid aluminum construction and anodized finish, this is will provide enough protection for you, your loved ones and your worldly possessions. The only downside to a floor mounted barricade is figuring out where to stow the barricade piece when not in use.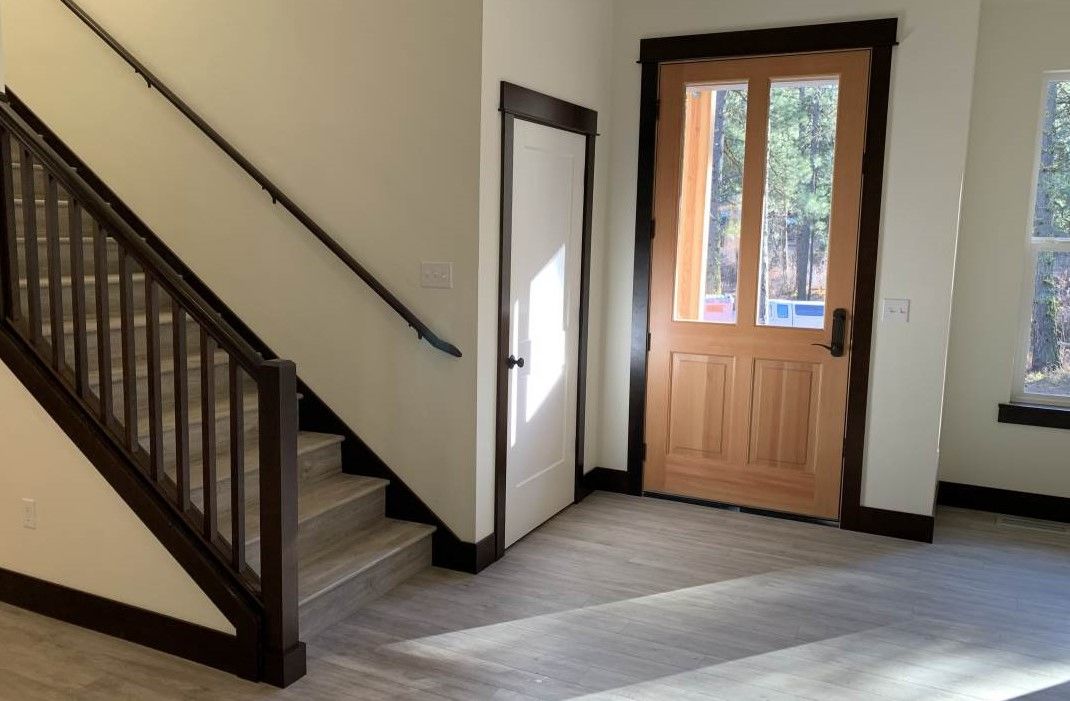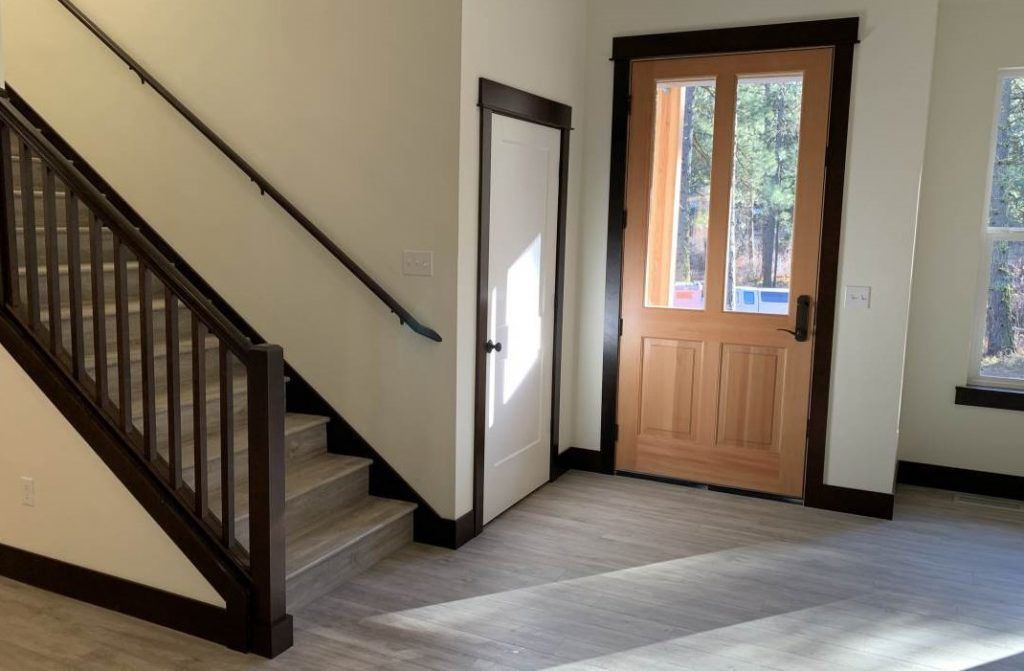 Replace Your Existing Door with a Solid Core Door
Finally, one of the very best ways to secure your front door is to completely replace it. If you have an inexpensive hollow core door as your front door, you need to replace it as soon as you can. Those types of doors should only be used for the interior rooms in your property, not for exterior entry points. The saying "you get what you paid for" rings very true in this case.
Instead, you should look to get a more expensive (but worth the extra investment in the long run) solid door made from either woods like pine, fir or a hardwood (the best wood option) or metal (surprisingly more affordable than you might imagine, with the added bonus of offering resistance against environmental conditions) or fiberglass. Fiberglass, although better for protection against rot and rust, can crack easier under pressure and tend to retail at more expensive prices than steel.
If you really want to invest in your front door, look especially for solid doors that have been hurricane-rated.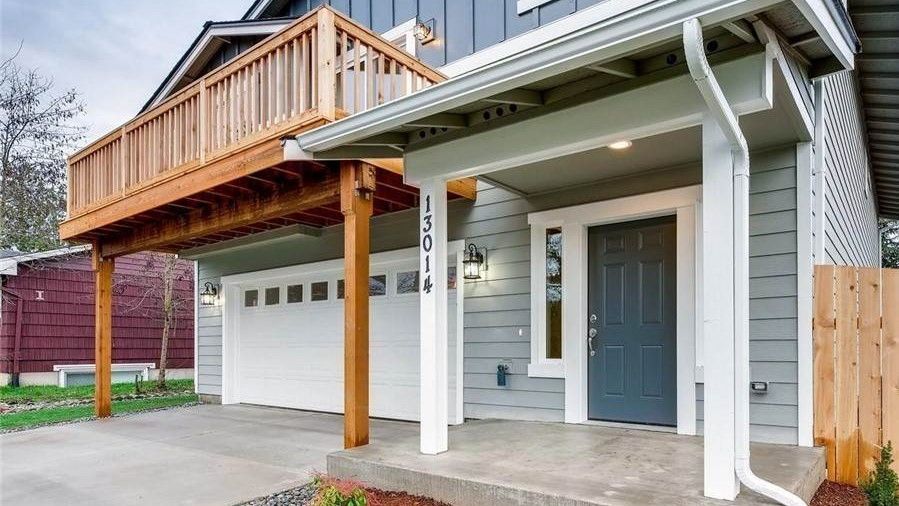 A determined burglar may find a way into your home, regardless of what kind of protection you install. However, the harder you make their job, the less likely they are going to keep trying to gain entry. Don't give them the satisfaction of having an easy payday.