5 Must Have Drill Accessories You Can't Live Without
A cordless drill is probably the tool that gets used the most by any serious DIY-er. While you already have an assortment of drivers and bits, check out these clever and super useful accessories that can take your power drill to the next level.
*I hope you'll love the products I recommend! Just so you know, Plumb and Lined may collect a share of sales or other compensation from some of the links on this page.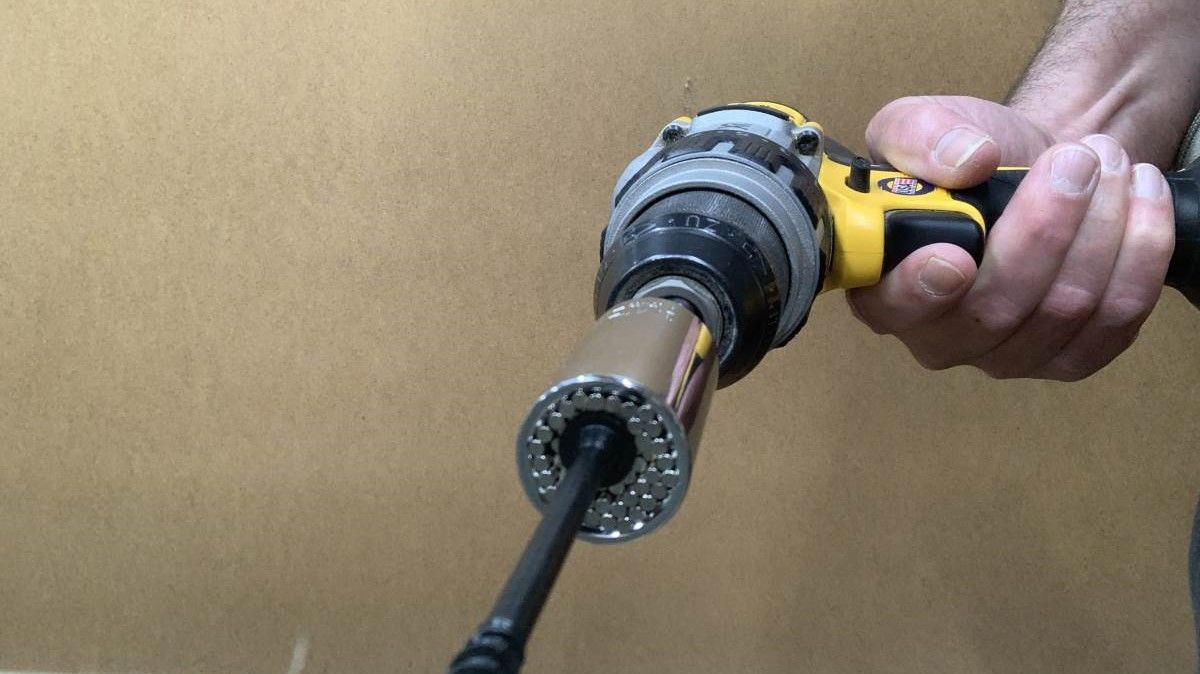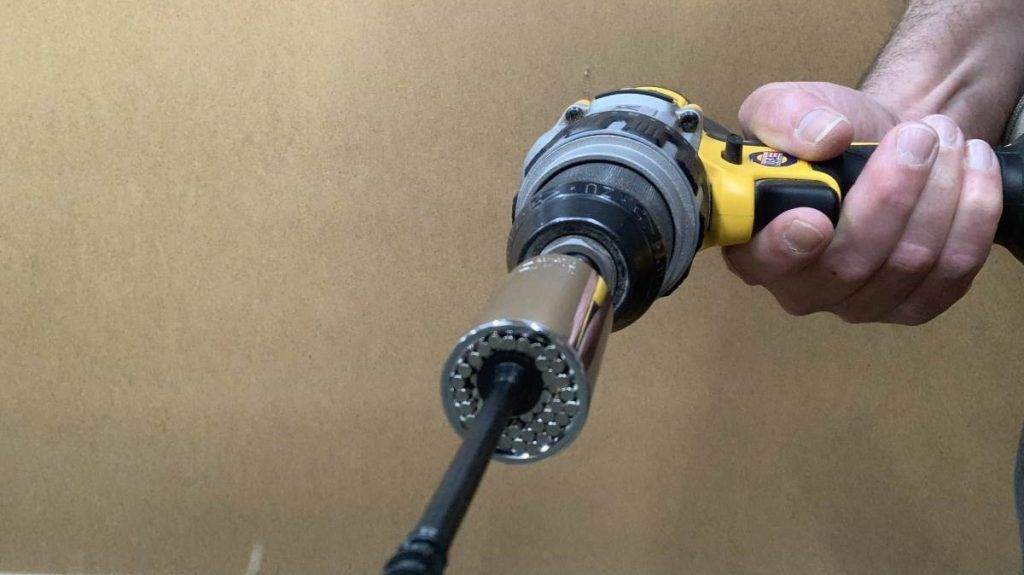 Ever needed to loosen a bolt, but you don't have the right size socket? It's like ten thousand metric sockets when all you need is a standard size. It's Alanis Morissett meeting the man of her dreams and then meeting his beautiful wife. A little too ironic, and yeah I really do think. The Universal Gator Socket can solve all your problems…well at least some of them. It's clever design of spring loaded rods can conform to any size nut or bolt shape – square, hex, wing nuts, eye screws between 7mm to 19mm (1/4" to ¾"). And it even works on stripped and rusted ones. Throw this in your drill case and never worry about having the wrong size socket again.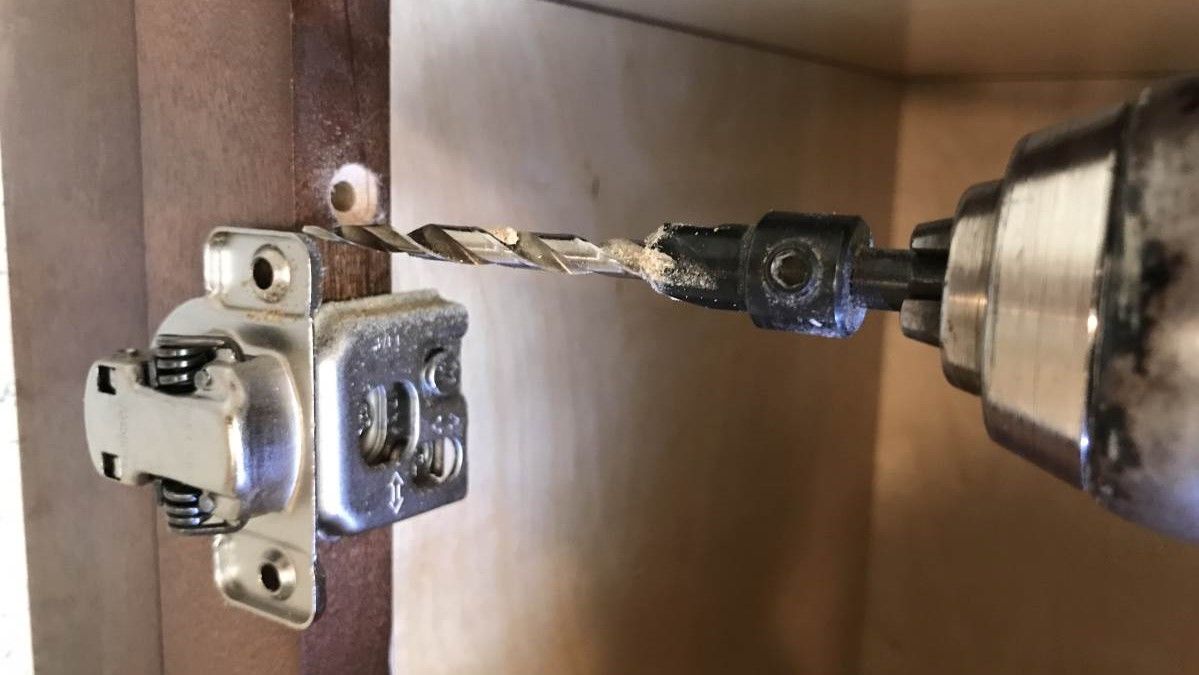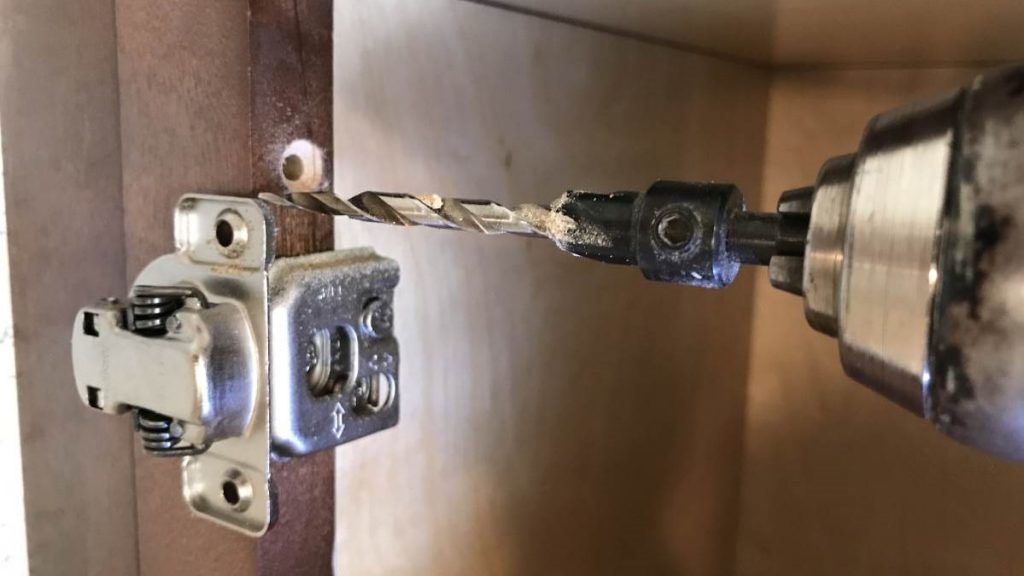 Pre Drill and Countersink in One Step
When installing cabinets, decking or building outdoor furniture, you'll need to pre drill for the screws to avoid splitting the wood. And you'll have to drill a tapered hole to accommodate the head of the screw. Save time by using a countersink drill bit that can drill both holes at the same time. Match the countersink bit to the size of the screw and you're in business.
For the times when you need to drill a hole in thin metal, nothing beats a step bit. It allows you to drill incrementally larger holes with each step of the bit – all without the risk of catching an edge or kicking back. A favorite of electricians for drilling holes in service panels, these bits work great any thin metal like gutters, flashings and even screen doors. You can purchase different sized step bits individually, or get a better deal on a kit with multiple sizes.
The DeWalt Pivot Holder is my favorite bit holder and the one that lives on my drill most of the time. It can function like any regular straight magnetic bit holder, or by sliding the collar up, it becomes an angled bit holder that can pivot at up to 20 degrees. It makes it easy to keep the correct angle on the screw, even in tight spaces.
Drill Perfectly Centered Holes
Take the guesswork out of pre drilling holes for hinges and other hardware with a self-centering drill bit. The ingenious design has a tapered nose that automatically centers the drill bit for perfectly aligned holes every time. An internal spring lets the nose retract as you drill the hole. Pick up a set for the most commonly used screw sizes (#6, 8 and 10) and never end up with a screw head that isn't perfectly flush with the hardware.