When it comes to buying bidets, there is certainly no shortage of choices. Bidets run the gamut, some costing as little as $100, others costing upwards of $1000. Finding the right bidet toilet seat is a matter of finding the seat with the features you need for a price that fits your budget.
Understanding the key differences between electric, non-electric, and the multitude of feature options will help you decide which bidet toilet seat is best for you. Match these needs with your budget, and you will be buying your dream bidet in no time.
*I hope you'll love the products we recommend! Just so you know, Plumb and Lined may collect a share of sales or other compensation from some of the links on this page.
BEST BIDET TOILET SEAT - COMPARISON TABLE
This SmartBidet outranks the rest for many reasons. It is the most highly rated, with the most sought-after features, for the best price. It certainly lives up to its name!
Multiple Wash Modes – this SmartBidet comes packed with multi-wash options. 'Posterior Mode' is for your rear, 'feminine mode' if for her front, and 'turbo wash' is most concentrated and useful for extreme needs.
Self-Cleaning Nozzle – no need to clean the nozzle–it will do it all on its own!
Oscillation – this feature is a customer favorite. It is an excellent feature to use regularly or in extreme cases. It beats wiggling around on the toilet seat. Let the bidet do all the work for you!
Excellent Customer Service – the customer service reps behind SmartBidet are quick to respond, informative, and go to great lengths to help their customers.
The Price – bidet toilet seats can be pricey. For all the features this SmartBidet comes loaded with, the reasonable price makes it a great value.
Remote Control – not feeling the oscillation feature? No need to reach around or struggle. A quick push of a button on the remote control will control all features on your SmartBidet toilet seat. The remote is also small enough to fit right in the palm of your hand. Remote comes with a mount for a wall or shelf to hang the remote after use.
Warm (adjustable) Air Dryer – If you're looking to go totally TP free, this warm air dryer will help! It is comforting and helps to dry fast, providing 5 different air pressure levels, temperature, and positioning. Saving trees never felt so good!
Energy Saving Mode –
Soft Closing Lid & Seat – Nothing is more irksome than an earthshattering toilet seat lid and cover. This is why we are pleased the SmartBidet comes with a gently closing lid and seat.
Easy DIY Installation – installing this bidet toilet seat should take less than 30 minutes! Easy installation.
1 Year Warranty – the SmartBidet toilet seat comes with a 12-month warranty
Fragile Seat – some users reported their seats snapped after some use. (Its weight capacity is 330lbs.)
Circuit Overload – some customers reported their SmartBidet shorting their circuits. Make sure that your circuit board can handle the wattage of your SmartBidet before purchase
Tricky Sizing Issues – some SmartBidet purchasers reported that the bidet seat did not quite fit their toilet at home. Make sure to double-check measurements and whether your seat is round or oval before purchasing.
Requires Electrical Outlet – some customers were unaware that the SmartBidet requires the use of an electrical outlet (which is how the
Still Need Some TP – some customers had hoped to go 100% TP free but reported they were unable to do so. However, they did report having to use way less, and use it much less often.
TOTO is, without a doubt, one of the best bidet toilet seat brands on the market. When Western tourists visit Asia and try a bidet toilet for the first time, they end up returning to the states and getting a TOTO, because they are notoriously reliable and come with tons of high-end features!
Powerful – though the spray on this TOTO is gentle, it is powerful, providing an efficient and hygienic clean (no TP needed!)
Provides Total Comfort and Convenience – this toilet seat will make you feel beyond lavish. It provides a constant warmth, air deodorizers, powerful air filters, and adjustable air dryer warmth and pressure.
Soft Close Lid – this TOTO bidet seat does not disappoint with its soft and soundless lid.
Memory Settings – much like a high-end car, this toilet seat can be programmed to remember your preferences!
Long-Lasting – one of the things customers like best about the TOTO brand is its high-quality design and reliability.
Reasonable Price – for a toilet that does it all, we are pleased with this TOTO bidet seat price.
High Demand – one of the surprisingly most annoying features of this TOTO bidet seat is that it is in such high demand it is hard to find and purchase.
Does not Accommodate All Sizes – this TOTO model may not be fit for persons of all sizes. Many customers reported feeling the toilet didn't fit them (whether due to weight or height.)
This budget-friendly Swash SE400 bidet seat comes fully loaded with intermediate/advanced features! Enjoy perks like heated seats and delightfully warm air dryer modes. Wiping will be outdated with this bidet toilet seat!
Customizable – the Swash bidet seat comes with tons of different modes to curate your own unique experience.
Advanced Electric Features – this electric bidet promises heated seats, warm air dryers, oscillation technology that washes front and back, gentle massage, and a cool blue LED night light feature.
Eco Mode – save some money on your electricity bill by setting this Swash SE400 bidet seat on Eco Mode!
Designed for North American Toilets – if you are concerned with your bidet seat not fitting right, some are comforted that this model was made with North American households in mind.
Inconsistent Dryer – some customers experienced an inconsistent blow dryer, requiring the need to still utilize toilet paper on occasion.
Short Term Hot Water – the hot water feature is not endless. Many customers reported experiencing the warm water run cold after about 30 seconds. However, we would argue that perhaps you don't need a full 30 seconds of warm water. To each their own!
Memorizes Settings – this bidet toilet seat will remember your personal, custom preferences!
UV Sterilization – the Luxe Bidet provides ultimate hygiene with its UV sterilization technology, which kills up to 98% of bacteria (without ever using bleach!)
Cost-Effective – for the high end features this bidet comes with, we are pleased it runs at an affordable price.
2 in 1 Stainless Steel Nozzles – for more positioning options, this bidet seat comes with 2 stainless steel nozzles and three different wash modes
18 Month Warranty – this 18-month warranty covers you in case you decide a bidet is not your thing after all!
Hardware Issues – a lot of users found this model of bidet seat difficult to install (some even requiring the assistance of a handyman and plumber).
Sizing Issues – another frequent complaint about this Luxe Bidet toilet seat is that it seems to fit rather oddly on many people's toilets. It doesn't reportedly accommodate all persons and all toilets (be sure to measure first!)
This BioBidet is beyond popular, one of the top-selling bidet toilet seats on the market! It is reliable, with high-performance ratings that make it one of our top picks. The superior water pressure makes for one of the most efficient and hygienic models available.
Excellent Track Record – if you are looking for a bidet toilet that is without a doubt reliable, look no further than the BioBidet Bliss BB2000. If there is one thing this bidet can taut over others, it is its consistent and overall reliable performance.
3 Year Warranty – this extended warranty certainly gives this BioBidet the edge over its competitors
High-End Features – this bidet seat comes with heated seats, endless warm water, a fancy stainless-steel nozzle, a top of the line air dryer, a deodorizer, and multi-spray features (like posterior and feminine wash.)
Sturdy – the BioBidet toilet seat is not easily breakable. It can withstand up to 200lbs and is incredibly durable. It is one of the things customer's like best.
Slow Closing Lid – we'll never get tired of this feature, and neither do the BioBidet's customers.
Oscillation Feature – We include this as a separate feature from 'high end' because it is such a popular feature on its own. This wide clean and pulsating message comes with bubble fusion. Making for the cleanest, most relaxing, and effortless bathroom experience you are likely to ever have.
Eco Mode – the BioBidet's eco mode reduces its use of electricity, and its powerful water pressure and air-drying technology reduces your need to use toilet paper.
Price – the price of this Bio Bidet is somewhat expensive; however, it is not the most expensive model on the market. Sometimes, you get what you pay for.
Bulkier – some customers complained that they did not prefer its rather 'bulkier' completion compared to other bidet seats on the market.
Questionable Water Pressure – a small percentage of customer's experience average water pressure, which still required the use of some TP.
Saniwise Toilet Bidet Seat
Cost-Effective – you just can't beat the price of this non-eclectic SANIWISE bidet seat. One of these bad boys won't break the bank!
Easy to Install – the DIY installation for this bidet toilet seat is incredibly straight forward and easy. Even the most novice DIYer will be able to install this seat with total ease (no electricity or plumbing required!)
Soft & Quiet Lid Closing – no toilet lid clanging here, this bidet seat will close gently and quietly, no loud noise! You won't be waking up your spouse in the middle of the night or cracking your toilet seat.
Adjustable Water Pressure – one of the superior features of this SANIWSE seat is the adjustable water pressure. It ranges from a soft, soothing spritz to a powerful cleaning with a wider range.
Dual Nozzles – this bidet comes with two nozzles, both with self-cleaning technology. The nozzles are retracting when not in use, to avoid an unnecessary eyesore. They also provide different angles specifically for the front and the rear.
Lacking High-End Features – if you are hoping for a bidet with all the bells and whistles, this bidet seat will not strike your fancy. The SANIWISE bidet seat comes with standard/basic bidet features – enough to provide hygienic cleaning, but not enough to make you want to sit there all day, which may not be such a bad thing.
Fragile Seat – some customers feel the seat is quite fragile and feel wary of moving around or putting too much weight on the seat.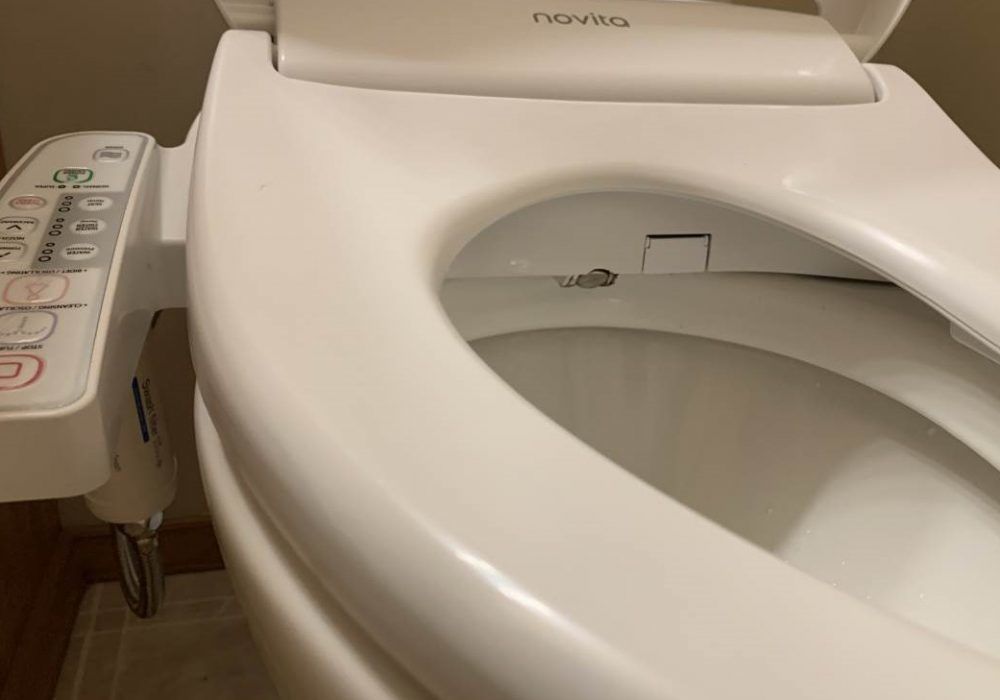 BEST BIDET TOILET SEAT BUYING GUIDE:
When researching bidet toilet seats, you are likely to feel a bit overwhelmed by the sheer volume of options and opposing customer reviews. Our goal is to help the process feel less daunting. To do so, it's helpful to start by assessing your needs.
Ask yourself: why do I want/need a bidet, and what features do I most desire? Bidet toilet seats can be expensive, so it's important to note which things are necessary and which features are just a cherry on top.
Different Types of Bidet Seats
When evaluating what bidet seat is best, it is helpful to understand the different kinds of bidet seats available on the market.
Electric Bidet Seats – these type of bidet seats tends to be the most expensive. These types of seats come with all the bells and whistles. They typically provide intermediate to advanced features and range anywhere from $200-$1500. They ultimately score highest in comfort, convenience, and hygiene (which is why they are more expensive.)
Non-Electric Bidet Seats – these types of bidet seats will be on the cheaper end and typically offer the most basic of features. They are powered by water pressure (so you will want to ensure the water pressure in your home or apartment is adequate.) You need the very minimum of waterpower to make a non-electric bidet seat worth-while (around 45-55psi.) The benefit of these types of seats is that they are more cost-effective and are not affected by power outages. They are also incredibly easy to install and maintain. If you are not sure if a bidet is right for you, these types of bidet seats are a great way to start to see if you even like cleaning via water after going to the bathroom.
Different Kinds of Bidet Seat Features
Bidet seats come with all types of features. Here are some of the feature options of bidet seats:
Basic
Water pressure cleaning
Self-cleaning nozzle or wand
Heated seats
Air drying functions


Intermediate
Multi-spray modes
Feminine wash mode
Remote control
Air Deodorizer
Night Light
Advanced
Automatic open/close toilet seat
Self-sterilizing technology
Additional spray modes
Concealed water and power connections
Do Not Make These Mistakes
Forget to measure your toilet bowl
Forget to match the color of your current toilet and toilet bowl to your prospective bidet toilet seat
Purchase the incorrectly shaped seat
Purchase an electric bidet seat if there is no available outlet near your toilet
Purchase without reading all customer reviews (the good, the mediocre, the ugly.)
Purchase without evaluating your personal needs
Forget to do your research!
How to Install a Bidet Toilet Seat
Maybe you've installed a new toilet seat before and need a refresher. Or maybe this is your first time changing out a toilet seat. Either way, we assure you the process of installing a bidet toilet seat is quite easy and a relatively quick process.
Step 1 – Measure Toilet Seat
It's important to note the exact dimensions of your toilet bowl to ensure the bidet toilet seat you are purchasing will fit exactly right. Fortunately, most bowls are of a similar size, so most seats come in the correct size. However, it's best to measure to be safe.
To do this, use measuring tape between the bolt holes of the toilet and record the measurements. Then, check to see if the bolts on the new toilet seat have the same measurements.
Step 2 – Match Color
Make sure that your toilet bowl and your new bidet toilet seat match. Many people before you have made this error. Nothing is more frustrating than getting your bidet toilet seat in the mail to discover it's the wrong shade and must be sent back. (It is important to match the shade as well before installing the toilet seat.)
Step 3 – Acquire Necessary Tools
You will need the following tools:
A flathead screwdriver
Adjustable wrench
Spray oil
Small hacksaw
Pliers
Rubber Gloves
Step 4 – Sanitize Current Toilet Seat
We likely do not need to tell you that since a toilet is a disposer of human waste, it is a breeding ground for bacteria. For this reason, you must clean the toilet seat and toilet bowl with sanitizer and anti-bacterial products to ensure you do not meet harmful bacteria.
Step 5 – Remove Current Toilet Seat
Remove the bolt caps from the toilet seat. Place your screwdriver under the bolt caps and pull. Next, retrieve your adjustable wrench and remove the nuts. Do this by rotating the wrench counterclockwise.
Using your flat head screwdriver, extract the bolts at the hinges sitting atop the toilet bowl. Once loosened, rotate the nuts and washers until they easily fall off (counterclockwise movements.)
If the nuts and bolts are stuck tightly, use WD-40 and let sit for 10 minutes. Then attempt removing.
Once all nuts and bolts are loose, remove from the toilet seat. Now you can pull the seat and hinges off.
Step 6 – Lay Out Bidet Seat Accessories
Set out the tools and accessories you will need for your bidet seat installation. You will likely be given pre-attached hinges, bolts, nuts, and a plastic seat cover. Have these at the ready where you need them to make the installation process easier.
Where the bolt holes sit on the hinges of the toilet, fix the new bolt through the space with the head at the top. In this position, the bolt will not be able to drop from out of the hole.
Step 7 – Ready the Nuts and Bolts
You will see bolts sticking through the top on one end of your toilet bowl. Attached your nuts and bolts here. You can initially screw the nuts and bolts on by hand, using your wrench at the end to tighten.
Repeat this process with every bolt. If your bidet toilet seat came with washers, make sure to add these before adding the nuts. Lastly, you will place the plastic caps over the top of the bolts and push them to secure firmly.
Step 8 – Attach Bidet Toilet Seat
The pre-attached hinges on your bidet toilet seat should slide nicely over the top of the bolts!
Want to watch an example of how this is done? Check out this video from MetropolitanOrg .
Whether your investment in your new bidet toilet seats is for health, hygiene, convenience, or an attempt to have less impact on your environment, we hope you have discovered a bidet seat that suits your needs.
After understanding the key features and differences between bidets, shopping for one becomes a bit more straightforward. We hope you feel empowered to make a smart purchase for you and your home!