DeWalt 20V Max Cordless Oscillating Tool Review DCS355
The DeWalt DCS355 is my pick for Best Overall in the cordless category of oscillating multi tools. In this review, we'll take a closer look at its features and find out why it ranks so highly.
Click here to see today's price on Amazon
*I hope you'll love the products I recommend! Just so you know, Plumb and Lined may collect a share of sales or other compensation from some of the links on this page.
If you purchase the DCS355D1 as a kit, it comes with the DCS355 tool, a 20-volt 2 ah battery, DCB112 charger, 28-piece accessory kit and a gig bag. If you already have other Dewalt cordless tools that are part of their 20-volt Max platform, the DCS355B is available without the battery, charger or accessories. In DeWalt's numbering system, if the tool model number is followed by a "B", it means bare tool (without accessories). Tools ending with D1 denote a kit with 1 battery and charger, while D2 stands for 2 batteries with charger.
An oscillating tool's blade moves (or oscillates) side-to-side. Each stroke is very short (1.6 degrees) and super-fast (up to 20,000 times per minute). The DCS355's oscillation angle is shorter than some corded models, so cuts are a little slower than some of the super aggressive models, although it's not at all wimpy. Setup with the right blade or accessory, it is capable of cutting, slicing, sanding, grinding, polishing, and even scraping.
The brushless motor runs with less friction making it more efficient than a motor with brushes, providing more power and longer runtimes. According to DeWalt, you'll get up to 57% more run time vs a brushed motor, so you can make more cuts before having to recharge the battery.
The QUICK-CHANGE accessory system allows blades and attachments to be changed quickly and without wrenches. It's a simple design that works by squeezing the silver handle that loosens the blade enough to slide it out. Releasing the handle causes the spring to clamp the blade securely in position.
DUAL-GRIP Variable Speed Trigger
The DUAL-GRIP variable speed trigger is an unusual design for a multi tool. Most models have a switch similar to what you might find on an angle grinder- a locking on/off switch with a dial to adjust the speed. DeWalt went with a variable speed trigger like you'd find on a cordless drill, and then added a lock switch that will keep the tool on until you pull the trigger again. It is comfortable to use, but it might take a little getting used to for some users.
It seems like almost every new cordless tool comes with LED lights these days. The DCS355 is equipped with an LED light in the nose that does a great job of illuminating the work area, making it easier to see what you are cutting.
DeWalt's 20-volt batteries have these nifty indicator lights to show you how much charge is left in the battery.
When you press the button, all three green lights mean full charge. Two lights signal between 50 and 75%, and one light means less than 50%.
Weighing in at just a little over 3 pounds when set up with a 2.0 ah battery and about 12" long, the DCS355 is easy to maneuver. The handle is comfortable to grip and feels good in your hands. You will feel a fair amount of vibration when in use (certainly more than in a top of the line Fein Tool), but not so much that it's worth worrying about. It has plenty of power for any job and the battery life is outstanding.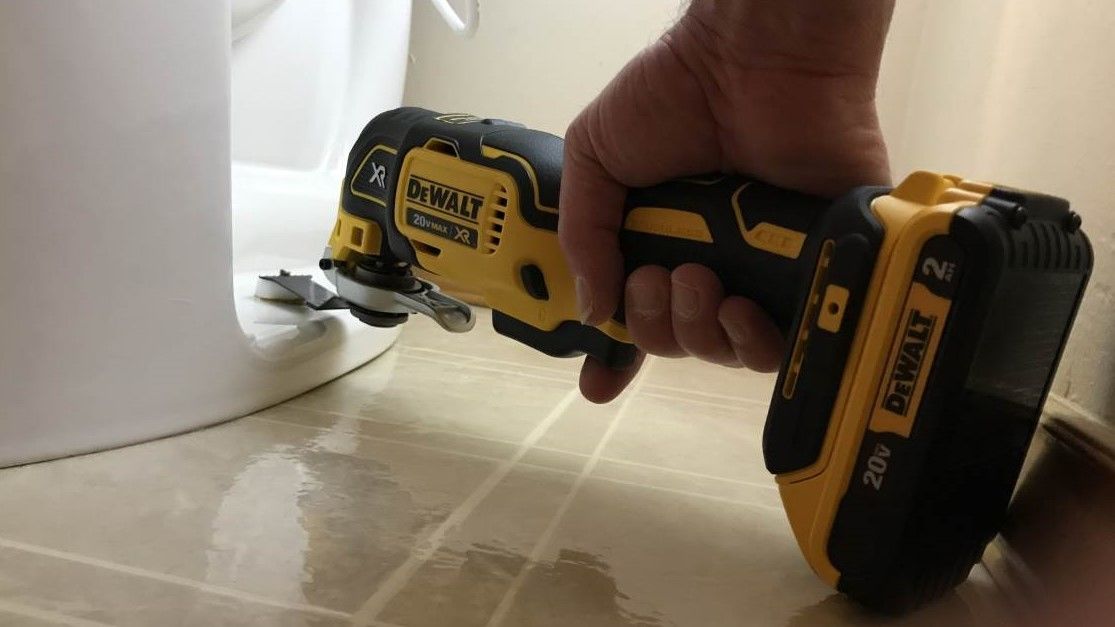 Am I ready to ditch my favorite Dremel MM50 corded multi tool? Yes, and no. Yes, because I love the portability and hassle free setup of not having to run an extension cord every time I need to undercut a door jamb, or trim the shims after setting a door, or most of the other things that a multi tool gets used for on the jobsite every day. So the DeWalt DCS355 now lives in my toolbox. No, because for the times that I need a multi tool for a job scraping old flooring adhesive, or grinding off a bunch of thinset, or jobs that require a fairly long time of continuous use, the Dremel wins- no battery to run out and with less vibration transferred to the grip, it's a bit more comfortable.
If you're looking for a solid cordless multi tool that is also a great value for the money, the DCS355 might be the one for you.
Click here to see today's price for the full kit on Amazon
Click here to see today's price for the tool only on Amazon
*As an Amazon Associate I earn from qualifying purchases.