DeWalt 20V Max XR Cordless Hammer Drill Review DCD996
I've been using the DeWalt DCD996 as my go to drill for the past few months. In this review, we'll take a closer look at its features and benefits to find out why it has become my favorite hammer drill.
Click here to see today's price on Amazon
*I hope you'll love the products I recommend! Just so you know, Plumb and Lined may collect a share of sales or other compensation from some of the links on this page.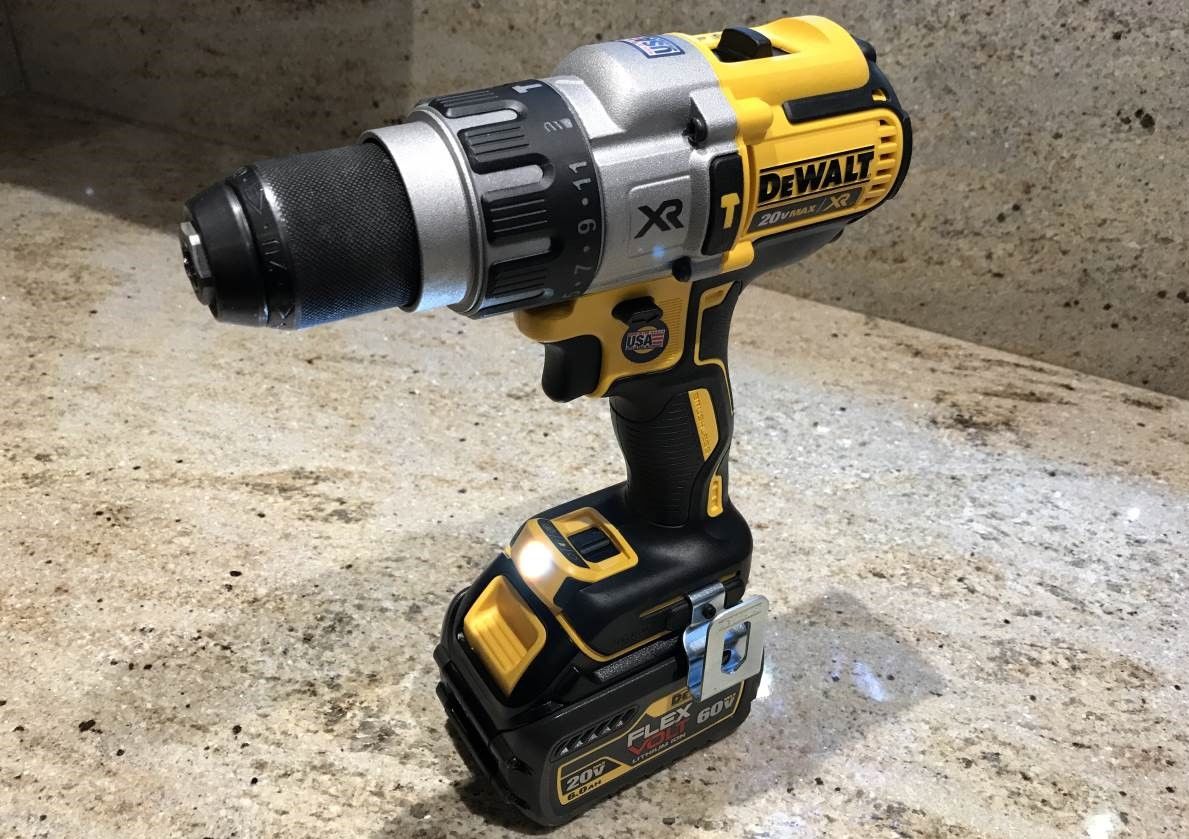 If you purchase the DCD996P2 as a kit, it comes with the DCD996 hammer drill, 2.) 20-volt 5 ah batteries, DCB112 charger, belt clip, auxiliary handle and a hard plastic case. If you already have other Dewalt cordless tools that are part of their 20-volt Max platform, the DCD996B is available without the battery, charger or case. In DeWalt's numbering system, if the tool model number is followed by a "B", it means bare tool (without accessories). Tools ending with D1 denote a kit with 1 battery and charger, while P2 stands for 2 batteries with charger and a plastic case.
How Much Power Does It Have?
If you give the DCD996 a spin, you'll quickly realize that it certainly doesn't lack power. The brushless motor supplies a whopping 841 inch pounds of torque, more than enough to cut 3" holes with a hole saw or drill with large diameter spade bits. With a maximum speed of 2,250 RPM and a hammering rate of 38,250 IPM, it has plenty of power for any job.
Brushless motors in cordless hammer drills are significantly better because their design reduces the friction involved with the brushes, providing more power and extending the battery run time. According to DeWalt, you'll get up to 57% more run time vs a comparable brushed motor, so you can drill more holes before having to recharge the battery. Click here for a more thorough look at brushless motors.
Changing bits is accomplished with a heavy-duty ½" ratcheting nitro-carburized metal chuck. The carbide inserts do an excellent job of gripping the bit and best of all, there is no key required. The all metal chuck will outlast any cheaper plastic types.
The variable speed trigger is DeWalt's familiar design that responds smoothly. Pulling the trigger harder increases the rotational speed.
Three Speed Ranges in Drill Mode
3-speed settings and 2 modes set the ranges of RPMs, allowing you to dial in the right amount for the application. In drill mode, setting 1, the trigger will work between 0 and 450 RPM- perfect for drilling large holes or driving small or delicate screws. Setting 2 operates from 0 to 1,300 RPM- the best setting for most jobs. And setting 3 will make available up to 2,000 RPM for drilling small diameter holes.
Three Speed Ranges in Hammer Drill Mode
With the DCD996 set to hammer drill mode, setting 1 will operate between 0 and 500 RPM. Setting 2 will work between 0 and 1500 RPM, and in setting 3 it will go up to 2,250 RPM. The hammering action operates up to 38,250 BPM to make quick work of drilling in masonry materials.
The rotating dial has 11 different clutch setting, allowing you to dial in just the right amount before the drill clutches out. When driving fasteners in various materials, the right clutch setting can drive the fasteners to just the right depth.
It seems like almost every new cordless tool comes with LED lights these days and the DCD996 is no exception. DeWalt has included three super-handy modes that make the surprisingly bright LED light operate with the conventional 20 second delay after the trigger is released. In spotlight mode, it will stay on for 20 minutes after releasing the trigger, effectively making it into a work light.
The DCD996 is Made in USA (with global materials). That is to say that Dewalt makes the DCD996 at one of its seven manufacturing plants in the US, with a combination of parts and materials that are produced around the world and in the USA. I've got to give them credit for figuring out a way to make great products that are competitively priced while supporting jobs here in the US at the same time.
DeWalt's 20-volt batteries have these nifty indicator lights to show you how much charge is left in the battery.
When you press the button, all three green lights mean full charge. Two lights signal between 50 and 75%, and one light means less than 50%.
DeWalt's flagship hammer drill model doesn't lack for power or performance. While the DCD996 is one of the most powerful hammer drills on the market in a reasonably compact size, the only small complaint I have is that it's not exactly nimble. With a 5.0 ah battery and the auxiliary handle installed, the weight approaches that of a traditional corded model. The handle is however comfortable to grip and it's a well balance tool. With as much power as it has, it's hard to complain too much.
If you're a pro looking for a solid cordless hammer drill that will stand up to daily use and abuse, or a serious DIY-er wanting a versatile pro grade tool, you can't go wrong with the DCD996.
Click here to see today's price for the full kit on Amazon
Click here to see today's price for the tool only on Amazon
*As an Amazon Associate I earn from qualifying purchases.