How to Set Tile Like A Pro
Get professional results, no experience necessary.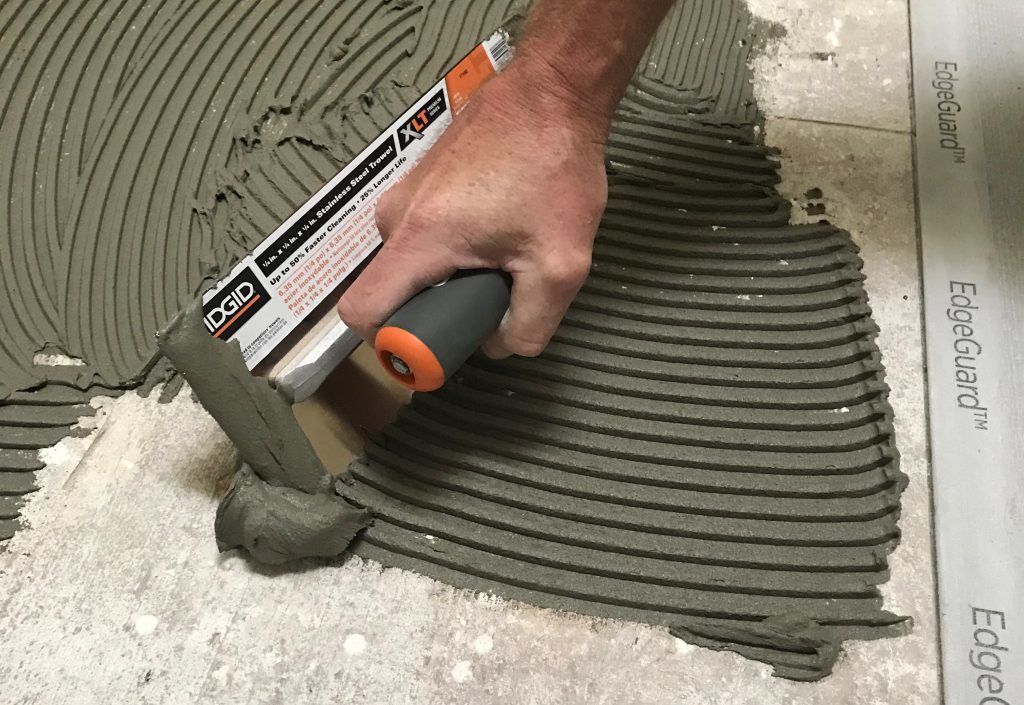 Installing a new tile floor in a bathroom is one of the easiest ways to update the look of your home. Tile is durable, easy to clean and can be super inexpensive if you shop around for a deal. Following these simple steps, anyone can achieve professional looking results with minimal effort.
If your subfloor is wood, you'll need to install ¼" cement backer board to make the floor stiff enough for the tile. Cut your sheets with a hand held grinder or circular saw and dry fit in the room. You'll want to do your cutting outside as it generates a lot of dust.
Use polymer-modified thinset mortar under the cement backer board. Don't be tempted to skimp by purchasing a cheap thinset.
Use your corded drill and a paddle mixing bit to mix up the mortar. Add just enough water to mix to a consistency similar to toothpaste.
A ¼" x ¼" notched trowel makes quick work of spreading the mortar.
Use 1 ½" roofing nails to nail down the cement backer board.
Lay out your tile in the room. Try to position the tiles so as to get a full tile along the most prominent wall. Check to see how parallel and square the walls are and make sure you won't end up with a tiny cut piece along any wall. The greatest time saving tool for laying out tiles is a Laser Square/ Laser Level.
Set your tiles using the same ¼" x ¼" notched trowel and thinset mortar that you used when you installed the cement backer board. Use spacers to set grout lines evenly.
Make your cuts with a Wet Saw. A Wet Saw is far more accurate and easier to use than an old fashioned tile snapper.
Continue setting the tile as you work your way out of the room. Take care to make sure that the edges of the tiles align flush with the adjacent tiles. It's ok to remove a tile and put a little extra mortar under it if your floor is not perfectly flat.
A Wet Saw excels at cutting round cutouts for toilet flanges. Hold the tile up to use the blade to nibble away the material.
Finish off the edges in doorways with a piece of metal edge trim.
Keep everyone off the tile for a day and then grout the floor. Use a grout float to pack the grout in all of the spaces between the tiles. Let it setup for about 30 minutes and then gently wash the excess grout away with a sponge. Change the water frequently. Wash, rinse and repeat.
Floor's done, ready for doors and trim.
Safety is important. I can't say it any better than my all-time favorite woodworker/ TV host, Norm Abram, so I'll just leave you with his famous quote:
"Be sure to read, understand, and follow all the safety rules that come with your power tools. Knowing how to use your power tools properly will greatly reduce the risk of personal injury. And remember this: there is no more important safety rule than to wear these (Norm points to his glasses) — safety glasses."
-Norm Abram, New Yankee Workshop