Milwaukee M18 Cordless Vacuum Review 0880-20
A shop vac is a must have tool at any jobsite or workshop, whether hooked up to a power tool or cleaning up the inevitable mess after working on a project. Ever since Black and Decker invented the first cordless miniature vacuum (DUSTBUSTER) in the 1970's, the idea of a cordless vac for small jobs has always been appealing, but up until recently, the Dustbuster was really more of a novelty than a real tool. In this review we're going to look at the Milwaukee M18 0880-20 Cordless Vacuum and see if it sucks or not. If you're interested in how it stacks up to other cordless models and why it's my pick for Best Overall, click here for my review of the best cordless shop vacs.
Click here to see today's price on Amazon
*I hope you'll love the products I recommend! Just so you know, Plumb and Lined may collect a share of sales or other compensation from some of the links on this page.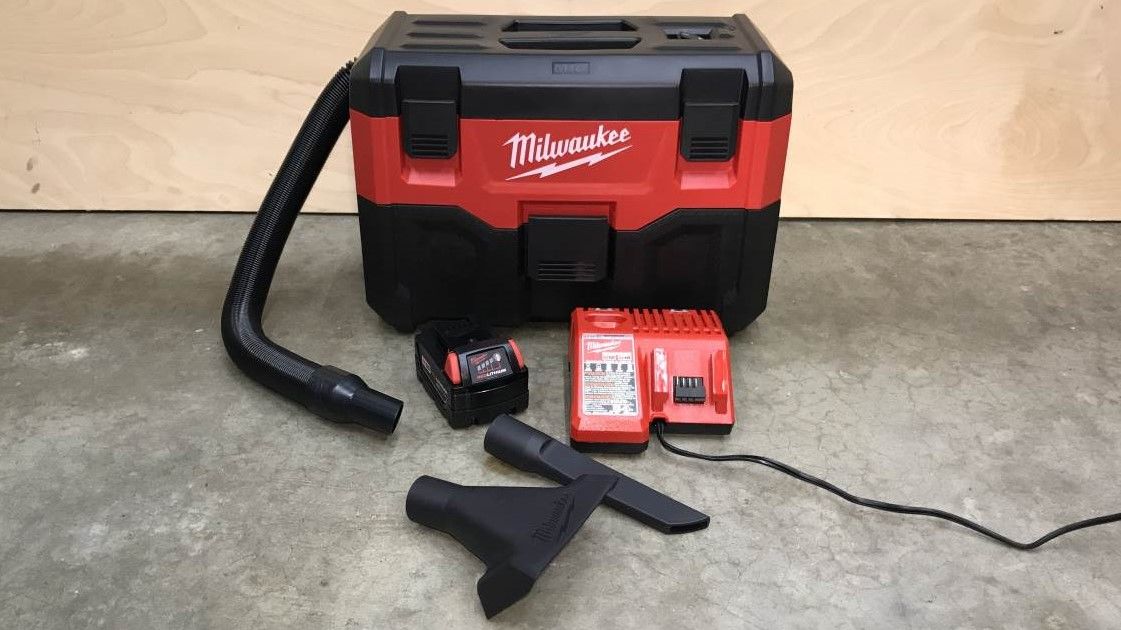 The Milwaukee M18 cordless vac is available as a kit (0880-20P) that comes with the 2 Gallon wet/dry vacuum, flexible hose, crevice tool, utility nozzle, certified HEPA filter, 18-volt 5 ah battery, and a quick charger. If you already have other Milwaukee cordless tools that are part of their M18 System, the 0880-20 is available without the battery or charger, but still includes the flexible hose, crevice tool, utility nozzle, and certified HEPA filter.
The 0880-20 has been around for many years, but Milwaukee updated it in 2018 to make some significant improvements to the overall design. Unlike its predecessor, all of the attachments and even the hose now fit neatly under the top lid, making it so you'll never have to worry about losing anything in transit. Without the hose dangling on the end, it's perfect for stacking with other cases and toolboxes. And the hose end now fits all standard 1 ¼" attachments of any brand.
The battery fits under the lid, protecting it from liquids. The new version's battery interface was changed to eliminate the compatibility with the old discontinued M18 Ni-Cad batteries and the increased size now allows plenty of room to use any Milwaukee M18 XC battery, even the gigantic 12.0 ah ones. Speaking of battery run time, you can expect to get about 25 minutes of run time on a 9.0 ah battery. Perfect for cleaning up small messes, but don't expect to cleanup your entire shop on a single charge.
The 2-gallon tank capacity holds wet or dry debris and is easily emptied by releasing the two plastic latches on the front and back of the unit.
The 0880-20 comes with a washable HEPA filter capable of containing all particles greater than .3 microns. A quick ¼ turn locks it into place.
A quick ¼ turn releases or locks it into place.
The on/off switch is conveniently located on the top of the unit and is easy to work, even with gloves on.
The 0880-20 has a surprising amount of power for a portable vacuum. 45 CFM through a 1 1/4" hose is more than enough to suck up sawdust, small screws, wood chips and drywall dust. The 1 ¼" hose is smaller than a traditional big corded shop vac, so you'll not want to use it on an excessive amount of large wood chips as it can clog if overloaded. The compact design and light weight (about 10 lbs) make it the perfect vacuum for little jobs and pick up work.