The 70's Called, They Want Their Fireplace Back
were famous for bell bottoms, 8 track cassettes and hideous fireplaces. Watch us give an especially ugly fireplace a makeover.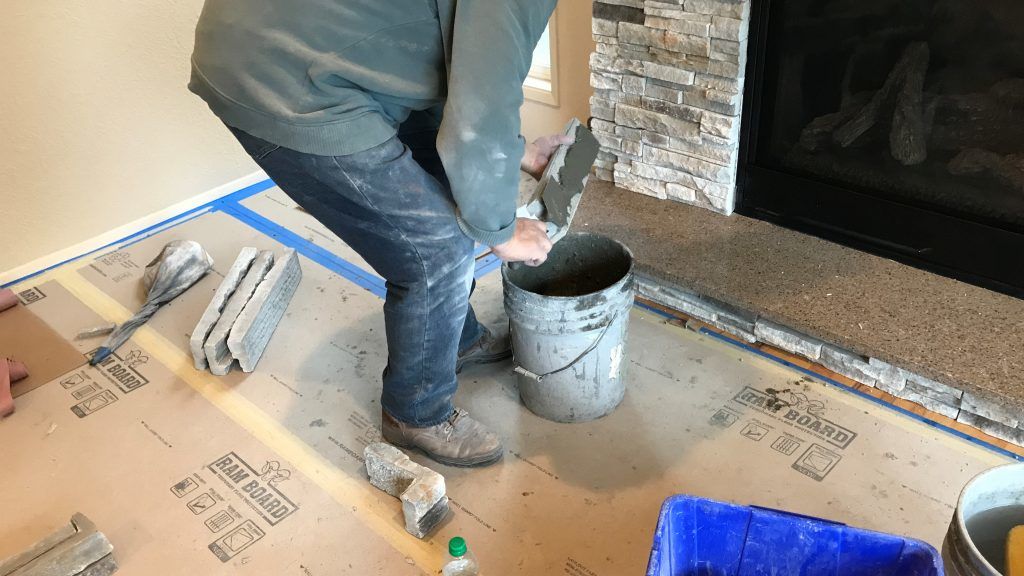 Today, the fireplace is no longer needed to heat our homes, but it still serves as the focal point of most well-appointed family rooms. The fireplace is usually at the center of family gatherings and hearkens back to the times when chilly winter evenings were spent in front of a roaring fire. The clients called after purchasing this house, built in 1979, with a short wish list and a limited budget. Item number one was to do something with this ugly fireplace. They wanted something more up to date, and with the flat screen TV mounted above a simple mantle.
I'm not sure about you, but I have a hard time imagining a world where someone thought this was a good looking fireplace. Vintage 1979, but it looks like maybe Fred Flintstone built it.
First things first, the hideous stone has to go. We started with a rotary hammer to drill holes in the mortar between the stones.
A wrecking bar and some elbow grease to dislodge the stones.
The stone is all gone. You can see the vintage metal fireplace insert. This was a wood burning unit that was retrofitted with a gas log set some time ago.
Not Barney Rubble, but a mess nonetheless.
New framing to give the new fireplace some depth.
A laser level makes it easy to make sure everything is plumb.
We built a platform to elevate the fireplace off the floor. We were limited by the ceiling height of only eight feet, so it couldn't be too far off the floor.
A platform for the hearth and the electrician ran power for the TV and fireplace blower, as well as data and cable lines.The gas fireplace unit installed, direct vent out the back.
For the simple mantel, we decided on a leftover glulam beam from another job. The price was right and all it took was some sanding and finish and it's ready to go.
Whenever I stop by this place, it reminds me of the Island of Misfit Toys. All the unloved or unwanted pieces of granite and quartz, some with corners broken off, just waiting for someone to take them home. But seriously, it's easy to find a great deal on a remnant here.
Dywall, Mantel and Hearth
Drywall, mantel and hearth installed. Click here for how to cut and polish the quartz for the hearth. We also painted the area black where the TV mount will go.
New stone work in progress.
New stone work in progress.
Ready for the flat screen TV.
Installing the bracket for the flat screen TV. A cordless impact driver makes quick work of driving the lag screws.
Flat screen and soundbar all hooked up and ready for the big game.
Safety is important. I can't say it any better than my all-time favorite woodworker/ TV host, Norm Abram, so I'll just leave you with his famous quote:
"Be sure to read, understand, and follow all the safety rules that come with your power tools. Knowing how to use your power tools properly will greatly reduce the risk of personal injury. And remember this: there is no more important safety rule than to wear these (Norm points to his glasses) — safety glasses."
-Norm Abram, New Yankee Workshop