An angle grinder is capable of cutting, grinding, slicing, and polishing. With the right blade, it can cut through many different materials like metal, ceramic tile and even granite. It's blade spins at a super-high rate of revolutions per minute (RPM) and with a typical diameter of 4 ½", it's able to get into tight spaces and corners.
In this review, we're going to show you the different angle grinder designs and features that will make whatever project you are working on a success. And we're going to look at different brands and models to help you make the right decision on what is the best angle grinder for you. We're going to break it down into two types- corded and cordless.
*I hope you'll love the products I recommend! Just so you know, Plumb and Lined may collect a share of sales or other compensation from some of the links on this page.
The DeWalt DWE402 has the most powerful motor (11 amps) of any angle grinder in our list. It has oversized brushes that will last twice as long traditionally sized ones. The DWE402 is equipped with an auto-off function that will shut the tool down when the brushes need replacing, to avoid damaging the tool. Anyone who has burned up a tool will appreciate this common sense feature. High RPMs (11,000), a paddle switch with an easy to use safety lock-off switch to prevent accidental startups, and a tool less Quick-Change wheel make blade changes a breeze. The DWE402 is the one that is in my toolbox every day.
Click here to see today's price on Amazon
*As an Amazon Associate I earn from qualifying purchases.
DeWalt is not new to angle grinders or power tools in general for that matter. Founded in 1922 in Leola, Pennsylvania by Raymond DeWalt, his invention of the radial arm saw was a revolutionary labor saving tool. They've been manufacturing grinders since 1967 and metal cutting machines since 1971. Dewalt introduced a new line of electric power tools in 1992. These were portable and came with many accessories and were designed for remodelers, woodworkers, and residential contractors. In 1994 they introduced the most powerful cordless tool at the time, the 14.4-volt cordless drill/ driver. I remember getting my first one of those and how it revolutionized the way we work on a jobsite. That drill took one heck of a beating day in and day out and ended up lasting for years.
The DeWalt DWE402 has a great blend of performance, features and price. An innovative Quick-Change wheel release makes accessory changes easy because you can do it without a tool. Its Dust Ejection System provides durability by ejecting damaging dust and debris particles that enter the tool. Its powerful 11-amp motor is strong enough to cut through most materials quickly. DeWalt did a nice job of designing a griping surface that is comfortable to use and the paddle switch is positioned conveniently. If you're looking for a well-built tool that will last for years from a trusted brand, the DWE402 might be the best angle grinder for you.
The Good: Great blade change mechanism, Great power
The Not So Good: No case included
ANGLE GRINDERS WORTH CONSIDERING
Porter Cable's angle grinder has a handle that can be positioned in three places (left, right or top) for ease of use and better control in a variety of application. Slightly under powered with a 7-amp motor, it makes up for it with an excellent guard that can be easily adjusted to control the spark path. If you're looking for low priced but not cheap, the PC60TPAG is a great deal.
The Good: Price, On board wrench storage
The Not So Good: 7-amp motor
The Makita 9557PBX1 has a powerful 7.5-amp motor that delivers 11,00 RPM. Labyrinth construction seals and protects the motor and bearings from dust and debris for longer tool life. The small diameter barrel grip is comfortable, especially if you have small-ish hands. Best of all, the 9557PBX1 comes with a great aluminum carrying case and an assortment of cutoff wheels and blades. If you're looking for a quality tool that comes with tremendous value, this might be the one for you.
The Good: Fast cutting speed, Case included
The Not So Good: Price
Bosch has a well-deserved reputation for high quality and is one of the largest power tool manufacturers in the world. The GWS8-45 has all of the features you are looking for at a price that competes with any other model. 7.5-amps and 11,000 RPM make it powerful enough for most any job. Bosch's Service Minder brush system shuts off the tool when preventative maintenance is required, which helps to eliminate guesswork. If you are looking for Bosch quality at an affordable price, you can't go wrong with the GWS8-45.
The Good: Price, Quality of build
The Not So Good: Nothing
Metabo is a German company that has specialized in making high quality power tools since its founding in 1927. They started producing angle grinders in 1966 and it's safe to say they know what works in a design. The W9-115 has a powerful 8.5 amp motor and a gear housing that can rotate in 90 degree step for left handed operation. The best feature of all is their S-automatic Torque Limiting Clutch: it minimizes kick-back if the disc jams unexpectedly keeping the user safer. It you're looking for top of the line quality and don't mind paying a little more for it, the Metabo W9-115 is the top of the line.
The Good: Torque limiting clutch, Great power
The Not So Good: Price
THE BEST ANGLE GRINDER – CORDLESS
A cordless angle grinder has the advantage of portability versus a corded model, but in order to get one with comparable power, you'll need to spend significantly more. Of course if you already have some cordless tools and batteries, you could consider purchasing just the tool (without the battery and charger) to keep the cost down.
The Makita XAG09Z is a great example of technological advances making a simple tool like an angle grinder much better than the tools of yesterday. It has a function that automatically adjusts speed and torque during operation for optimum performance. For your safety and that of the tool, AFT will turn the motor off if rotation of the wheel is suddenly forced to stop as sometimes happens when the material that you are cutting through binds on the blade. A brushless motor, 8,500 RPM, and an electric brake to stop the blade within 2 seconds round out the notable features. If you're looking for a cordless angle grinder that in some ways will outperform a corded model, the XAG09Z might be the best angle grinder for you.
Makita was founded in 1915 in Nagoya, Japan. At first, the company repaired lighting equipment, motors and transformers. Later in the 1920's, they began to manufacture their own motors and electric generators. The late 1950's and early 1960's saw the introduction of portable electric planers and a circular saw. Makita began selling products in the US market in 1970, eventually creating its first cordless tools in 1978. While they didn't invent the brushless motor, Makita was the first company to use them in power tools, first for the aerospace industry in 2003, and then producing a brushless impact driver in 2009.
THE BEST ANGLE GRINDER – CORDLESS
If you're looking for the best angle grinder in a cordless, the Makita XAG09Z is definitely worth considering. The brushless motor runs cooler and increases the run time on the battery while supplying up to 8,500 RPMs. Active Feedback-sensing Technology (ATF) turns the motor off if rotation of the wheel is suddenly forced to stop and the electric brake stops the wheel within 2 seconds upon release of the switch- both super smart safety features. All in all, a solid tool that performs well.
The Good: Brushless motor, Great safety innovations
The Not So Good: A little heavy at 5.7 lbs
ANGLE GRINDERS WORTH CONSIDERING - CORDLESS
The Ryobi P423 has a surprising amount of power for a cordless angle grinder. It has the fastest wheel speed of any of the cordless models in our lineup at 10,400 RPM. You may or may not like the ugly light yellow green color, but if you're looking for a high performing tool that runs on Ryobi's popular 18V ONE+ platform and is super affordable, check out the P423.
The Good: Excellent RPMs (10,400), Price
The Not So Good: Color
The DeWalt DCG412B is easily the most nontraditional looking design in our lineup. The handle trigger switch is best described as an acquired taste. Aside from that, it's a decent tool that performs fairly well for a cordless tool. You'll like the tool free wheel change feature, the compatibility with DeWalt's 20-volt max platform and best of all- the price.
The Good: Price, Tool free wheel change
The Not So Good: Unconventional handle design
The Metabo WPB 18 LTX 115 is probably the closest a cordless angle grinder can get to a high powered corded one. The brushless motor running on an 18 volt battery produces an impressive amount of torque at 9,000 RPM. The battery pack pivots so you can better get into tight spaces and it's equipped with an electric brake to stop the wheel. You may or may not like the switch that can't be locked in the on position, although it is certainly a safer setup. Top of the line build quality naturally comes at a price that many people find hard to justify, but if you're looking for the best cordless angle grinder no matter the price, the Metabo is the one for you.
The Good: Outstanding torque, Quality of build
The Not So Good: Price
The DeWalt DCG413B is comparable to the Makita XAG09Z in performance and safety features. It's got the electric brake- a feature I wish all angle grinders would have, and it has a kickback brake that will stop the motor in the event that material starts to bind when cutting. The DeWalt gets 2nd Best because it lacks the function that automatically adjusts speed and torque during operation, but you can't go wrong with the DeWalt DCG413B.
The Good: Brushless motor, Great safety innovations
The Not So Good: 0
I always chuckle when I see the websites with the reviews of tools when they say "we spent over 20 hours evaluating these tools, trying to simulate real world conditions in our test lab" and that is somehow supposed to convince you that that makes them some kind of authority on the subject. And because they've spent all that time, you therefore should trust them to recommend the best angle grinder.
I guess maybe there is some value in knowing that a brand new tool with a brand new blade was able to cut 113 pieces of angle iron before the tester person's arm got tired or the battery ran out, but you might want to know how well that tool performs after it's a few years old. Or you might want to know if the tool can hold up to daily use and abuse like it is subjected to in the actual real world.
Over the last 30 plus years as a general contractor, I've been making my living using these tools at jobsites day in and day out. My crews and subs make their livings using these tools too. And we all talk. Word quickly gets around about an innovative new design, and probably even more quickly when someone made the mistake of buying a piece of junk.
There's nothing worse than spending your hard earned money on a tool that you are expecting to make it easier and faster to tackle all kinds of projects around the house, only to find out that the tool comes up miserably short of meeting your expectations. My goal here is to keep you from buying that piece of junk.
Why You Need An Angle Grinder
An angle grinder allows you to cut anything most of your other tools can't – metal, stone, concrete, and other hard materials. It uses an abrasive disk that allows you to cut through things with the edge or grind away material with the side. Smoothing a weld joint is just one example of a grinding task, while cutting off a bolt will take for less time with an angle grinder than with any other tool.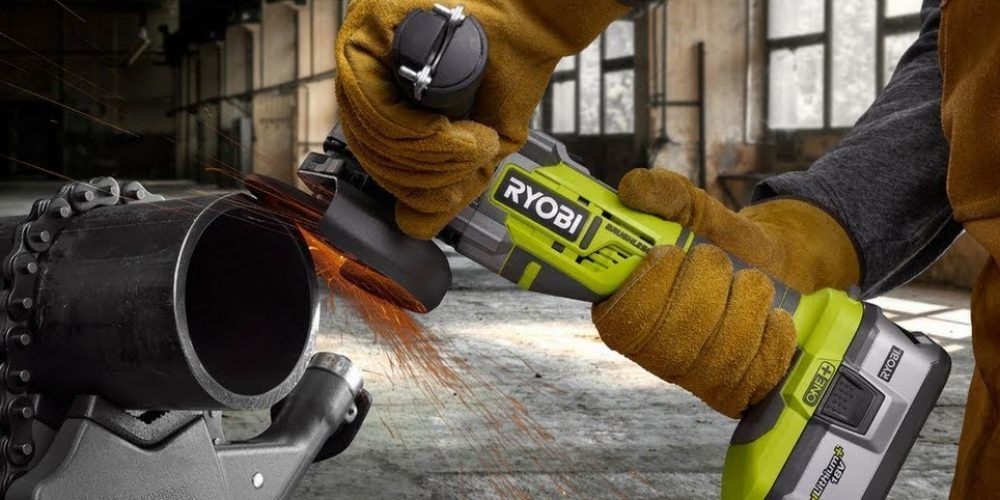 Angle Grinder Features- What's What and What's Important
Power is one of the more important features when deciding what is the best angle grinder, but unfortunately most manufacturers don't publish all of the data on their grinders. The amp rating indicates how much electricity a motor draws. Most angle grinders will be rated between 6 and 11 amps. Blade or wheel speed is measured in revolutions per minute or RPM. The best angle grinders will be in the 9,000 to 11,000 RPM range. Torque is how much force acting on an object causes that object to rotate and is the one specification that manufacturers don't publish.
Changing the Blade and Abrasive Wheels
One of the reasons an angle grinder is so versatile is the ability to change to different types of blades and abrasive wheels. On some tools the changes can be made without the use of a wrench or tool and on others like the Ryobi P423, the wrench stores inside the handle for easy access.
Cordless Angle Grinder Features
Battery power is measured in volts. While there are numerous manufacturers producing 12-volt batteries, the majority of them fall into the toy category and aren't worth considering. The 18-volt and 20-volt models are the most popular, and rightly so, because they have plenty of power for most any task.
Battery capacity is expressed by how many Amps for how many hours a battery will last before needing to be recharged. Typical quality batteries will be rated between 1.4 ah to 3.0 ah.
There are two types of batteries commonly used in cordless tools- Nickel Cadmium (NiCd) are the old technology containing environmentally unfriendly cadmium, and the far superior Lithium Ion (Li-Ion) models. Lithium Ion batteries provide longer run time, more power, and are lighter than NiCd batteries. They cost a bit more, but are worth it.
There's nothing quite as frustrating as putting your project on hold because your battery needs charging. I recommend buying a kit with two batteries, so you can always have one charged and ready to go. Charging time varies greatly, but most are reasonably quick, in the 30 to 90-minute range.
Is brushless really better or is it just the latest trendy "must have" marketing feature? To be Honest, it's yes to both questions. Brushless motors are technically better because their design reduces the friction involved with the brushes, providing a little more power and extending the battery run time. Will you notice the difference in power? Probably not. The downside to brushless motors is they cost more, but they are undoubtedly better.
Quality corded angle grinders range from about $40 to $100 dollars depending on brand and features. Cordless models start around $100, give or take, for just the tool with no batteries or chargers. Good quality cordless kits are in the neighborhood of about $200. A Top of the line Metabo cordless model will set you back nearly $500 for a kit package.