The Best Cordless Oscillating Tool
An oscillating tool is capable of cutting, slicing, sanding, grinding, polishing, and even scraping. It's probably due to this incredible versatility that the oscillating tool goes by many different names. Oscillating Multi Tool, Multi Tool, or Fein Tool are just a few of the names that you'll hear it called on jobsites today. It works by vibrating (or oscillating) thousands of times per minute allowing it to make cuts that no other type of saw can make.
Until recently, oscillating tools were out of reach of the average DIY-er. In the 1960's, Fein's invention was used to cut plaster casts off people with broken arms and legs. The unique oscillating action allowed the physician to cut off the cast without cutting the patients' skin underneath. Fein started selling a model in the 80's that was primarily used in the auto industry and by specialty flooring contractors who were able to justify the nearly $1,000 price tag. Fast forward to 2009 when Fein's patent expired: Everybody started making and selling their version of the oscillating tool in varying degrees of price and quality.
In this review, we're going to show you the different cordless oscillating tool designs and features that will make whatever project you are working on a success. And we're going to look at different brands and models to help you make the right decision on what is the best one for you. If you're interested is a corded model, check out my review here.
*I hope you'll love the products I recommend! Just so you know, Plumb and Lined may collect a share of sales or other compensation from some of the links on this page.
A cordless oscillating tool has the advantage of portability versus a corded model, but in order to get one with comparable power, you'll need to spend significantly more. Of course if you already have some cordless tools and batteries, you could consider purchasing just the tool (without the battery and charger) to keep the cost down.
DeWalt came up with a winner in the DCS355D1. Running on DeWalt's ever expanding 20-volt platform, chances are you might already have some other tools in the family. The tool free blade changing system works well and the brushless motor delivers increased run time for the battery. If like me, you don't see as well as you used to, you'll appreciate the built in LED light that illuminates dark work areas. If you're looking for a solid cordless model, this might be the best oscillating tool for you. Click here to take a closer look at the DSC355.
DeWalt is not new to cordless tools or tools in general for that matter. Founded in 1922, it's safe to say they know a thing or two about making tools and they were one of the pioneers of cordless tool technology. In 1994 they introduced the most powerful cordless tool at the time, the 14.4-volt cordless drill/ driver. I remember getting my first one of those and how it revolutionized the way we work on a jobsite. That drill took one heck of a beating day in and day out and ended up lasting for years.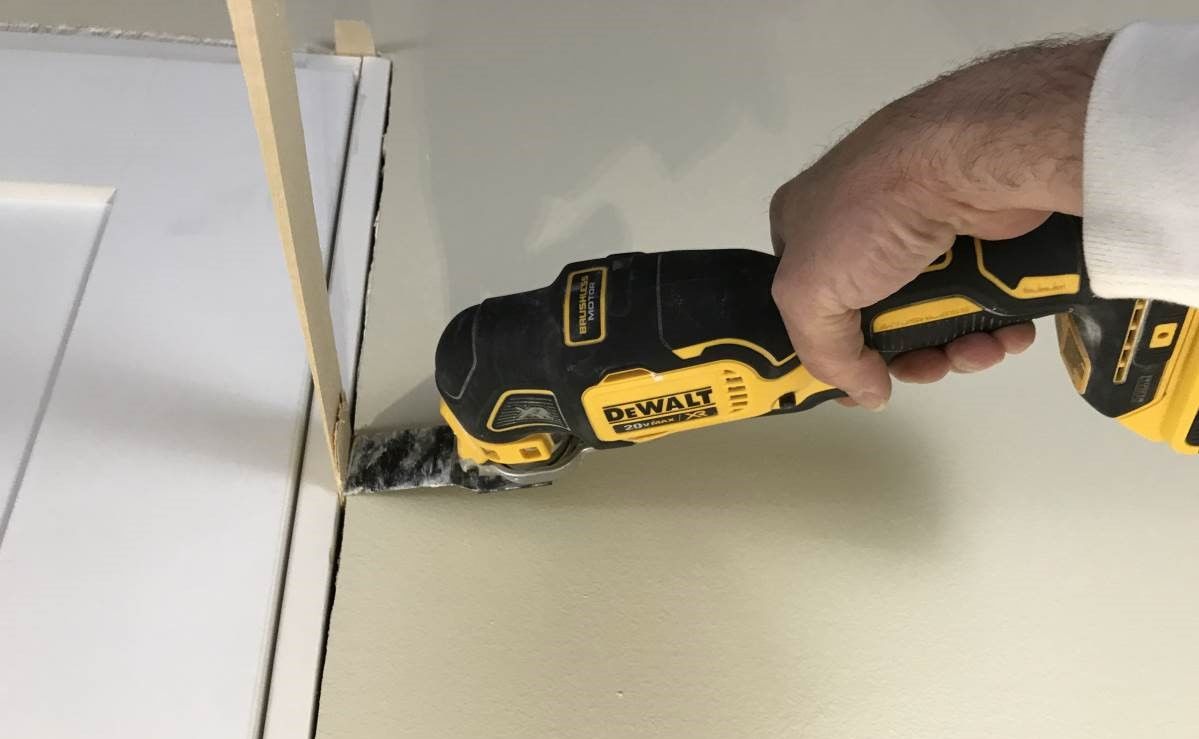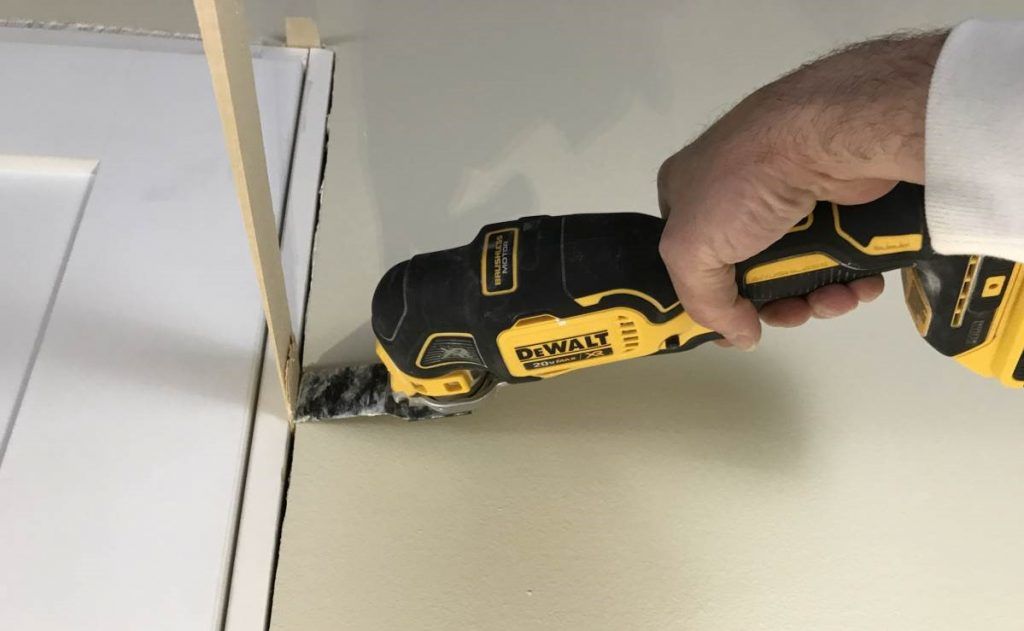 THE BEST CORDLESS OSCILLATING TOOL
If you're looking for the best oscillating tool in a cordless, the DeWalt DCS355D1 is definitely worth considering. The brushless motor runs cooler and increases the run time on the battery while supplying up to 20,000 OPMs. While I don't like the on/off trigger instead of a switch, they did include a lock to make it useable. All in all, a solid tool that performs well. Click here for a more in depth review of the DSC355.
The Good: Light weight (3.22 lbs), Bright LED light
The Not So Good: Lots of vibration
1.6 degree oscillation angle
3.2 degree oscillation angle
4 degree oscillation angle
3 degree oscillation angle

Allen wrench blade change
Oscillation angle not listed
CORDLESS OSCILLATING TOOLS WORTH CONSIDERING
The Makita XMT03Z pulls off a good cutting speed with excellent vibration control. It's the heaviest of any model in our lineup at 4.9 pounds including the battery. You may or may not like the large diameter handle depending on the size of your hands, but if you're looking for a high quality tool that runs on Makita's popular 18-volt LXT platform, this might be the one for you.
The Good: Excellent vibration control, Good cutting speed
The Not So Good: A little heavy, Loud sound level
Similar to Rockwell's corded model, the RK27001K performs well in most situations, albeit very loudly. It has a good tool free blade changing system and a built in LED work light to illuminate dark work areas. The long lasting 2.0-amp hour battery has a decent run time. If you're looking for a nice blend of performance and price, and don't mind it a little loud, the Rockwell might just be the best oscillating tool for you.
The Good: Good blade changing system, LED work light
The Not So Good: Loudest sound level
The Ryobi P340 is a decent tool and a good value for someone looking at the lower range of prices. It has a good cutting speed but poor vibration control. You'll need an Allen wrench to change the blade and you'll not likely enjoy the trigger on/off switch, but if you are looking for a cheap cordless tool for a few small projects, you'll definitely get your money's worth out of this one.
The Good: Price
The Not So Good: Allen wrench required for blade changes, Poor vibration control
The Milwaukee 2626-22 has a pro level cutting speed that can keep up with most corded models. Paired with the 18-volt 5.0 amp-hour battery, you won't have to stop working to recharge often. A solid tool free blade changing mechanism and a built in LED light round out the features that you'd expect to have. You can't go wrong with the Milwaukee 2626-22.
The Good: Low sound level, good cutting speed
The Not So Good: Price
I always chuckle when I see the websites with the reviews of tools when they say "we spent over 20 hours evaluating these tools, trying to simulate real world conditions in our test lab" and that is somehow supposed to convince you that that makes them some kind of authority on the subject. And because they've spent all that time, you therefore should trust them to recommend the Best Oscillating Tool.
I guess maybe there is some value in knowing that a brand new tool with a brand new blade was able to cut 113 2 x 4s before the tester person's arm got tired or the battery ran out, but you might want to know how well that tool performs after it's a few years old. Or you might want to know if the tool can hold up to daily use and abuse like it is subjected to in the actual real world.
Over the last 30 plus years as a general contractor, I've been making my living using these tools at jobsites day in and day out. My crews and subs make their livings using these tools too. And we all talk. Word quickly gets around about an innovative new design, and probably even more quickly when someone made the mistake of buying a piece of junk.
There's nothing worse than spending your hard earned money on a tool that you are expecting to make it easier and faster to tackle all kinds of projects around the house, only to find out that the tool comes up miserably short of meeting your expectations. My goal here is to keep you from buying that piece of junk.
Why You Need an Oscillating Tool
An oscillating tool can perform many functions. It's most commonly used for making cuts that traditional saws can't make. Undercutting a door jamb to allow for new flooring, plunge cuts in cabinets or drywall for electrical boxes, trimming a baseboard in place, and that kind of thing.
You can also use an oscillating tool to cutout old grout in between tile or scrape off old paint and flooring glue. Most oscillating tool kits come with sanding pads that can come in handy for sanding a surface in tight quarters, but you'd be better served with a dedicated random orbit sander for big jobs.
Cordless Oscillating Tool Features- What's What and What's Important
Cutting Speed is one of the more important features when deciding what is the best oscillating tool. There are three factors that affect cutting speed. The amp rating indicates how much electricity a motor draws. Most oscillating tools will be rated between 3 and 5 amps. Blade speed is measured in oscillations per minute or OPM. The best oscillating tools will have a range of about 10,000 to 23,000 OPM. And finally, the oscillation angle measures the length of the cutting stroke. Generally speaking, a higher oscillation angle translates to a faster cut. Most oscillating tools will fall into the 2 to 5-degree range.
It's useful to be able to slow the blade down for delicate cuts, therefor increasing your control, or to get the blade going faster for tough cutting jobs and scraping. Better tools will have a dial to adjust the speed while others will have a trigger similar to cordless drills. The trigger models feel clumsy to me. The cheapest models don't include the variable speed feature at all.
Changing the Blade and Accessories
One of the reasons an oscillating tool is so versatile is the ability to change to different types of blades and accessory attachments. On the best oscillating tool, the changes can be made without the use of a wrench or tool. Cheap oscillating tools require a hex or Allen wrench to make the switch. Everyone knows how frustrating it can be when you need to change the blade but you can't find the wrench.
Battery power is measured in volts. While there are numerous manufacturers producing 12-volt batteries, the majority of them fall into the toy category and aren't worth considering. The 18-volt and 20-volt models are the most popular, and rightly so, because they have plenty of power for most any task.
Battery capacity is expressed by how many Amps for how many hours a battery will last before needing to be recharged. Typical quality batteries will be rated between 1.4 ah to 3.0 ah.
There are two types of batteries commonly used in cordless tools- Nickel Cadmium (NiCd) are the old technology containing environmentally unfriendly cadmium, and the far superior Lithium Ion (Li-Ion) models. Lithium Ion batteries provide longer run time, more power, and are lighter than NiCd batteries. They cost a bit more, but are worth it.
There's nothing quite as frustrating as putting your project on hold because your battery needs charging. I recommend buying a kit with two batteries, so you can always have one charged and ready to go. Charging time varies greatly, but most are reasonably quick, in the 30 to 90-minute range.
Is brushless really better or is it just the latest trendy "must have" marketing feature? To be Honest, it's yes to both questions. Brushless motors are technically better because their design reduces the friction involved with the brushes, providing a little more power and extending the battery run time. Will you notice the difference in power? Probably not. The downside to brushless motors is they cost more, but they are undoubtedly better.
Professional grade corded oscillating tools range from about $70 to $140 dollars depending on brand and features. Cordless models start around $100, give or take, for just the tool with no batteries or chargers. Good quality cordless kits are in the neighborhood of about $200. Top of the line Fein tools will set you back nearly $500 for a kit package.
*As an Amazon Associate I earn from qualifying purchases.