The Best Cordless Shop Vac
I've decided to sell my Shop Vac … it was just collecting dust. It was stuck in reverse. I know what you're thinking … Well that really blows. And I'm sure you were hoping that my puns this time wouldn't suck. But seriously, a shop vac is almost always found in any well-equipped workshop. It's indispensable for keeping the work area clean and dust free. The only trouble with full sized corded shop vacs is their somewhat inconvenient lack of portability when it comes to cleaning up after a small project at the far end of the house or other punch list work. Lugging it up the stairs and running an extension cord can sometimes take longer than the actual cleaning up the mess part.
In this review, we're going to take a look at different cordless shop vac designs and specs to see if they are worth adding to your collection. And we're going to look at different brands and models to help you make the right decision on what is the best cordless shop vac for you.
*I hope you'll love the products I recommend! Just so you know, Plumb and Lined may collect a share of sales or other compensation from some of the links on this page.
THE BEST CORDLESS SHOP VAC
Cordless vacuums have come a long way since the days when they were more of a novelty than anything else. Remember the original Black and Decker Dustbuster? Even with all of the recent advancements in battery technology, a modern cordless shop vac isn't going to rival the power of a corded model, but they aren't designed to replace your everyday unit anyway. There are plenty of situations where a cordless vacuum's lightweight and extremely portable package will more than make up for the loss in power.
The Milwaukee 0880-20 has a great mix of power (45 CFM), run time (about 25 minutes on a 9.0 ah battery), and light weight portability (10.1 pounds). The 2-gallon capacity is more than enough for small clean up jobs and all of the attachments and hose store neatly inside the lid so you'll never have to worry about losing anything in transit. If you're looking for a powerful cordless wet/dry vac at a great price, the Milwaukee 0880-20 might be the best cordless shop vac for you.
Click here to see today's price on Amazon
*As an Amazon Associate I earn from qualifying purchases.
MILWAUKEE BRAND and HISTORY
The Milwaukee Electric Tool Corporation was founded in 1924 with the goal of producing and selling A.H. Petersen's design of the Hole-Shooter, a ¼" capacity light weight portable drill that was commissioned by Henry Ford in 1918. Throughout the 1930s and 40s, Milwaukee became the premier manufacturer of drills, developing many models that went on to become the standard of the industry for electricians and plumbers.
Milwaukee revolutionized the power tool industry in 1951, when they introduced the Sawzall® Reciprocating Saw. The Sawzall®, still a defining Milwaukee tool to this day, was the first portable hacksaw to have a reciprocating mechanism. Since the early 1990s, Milwaukee has been one of the leaders in cordless tool technology, with their ever expanding 18-volt line of contractor tools and accessories.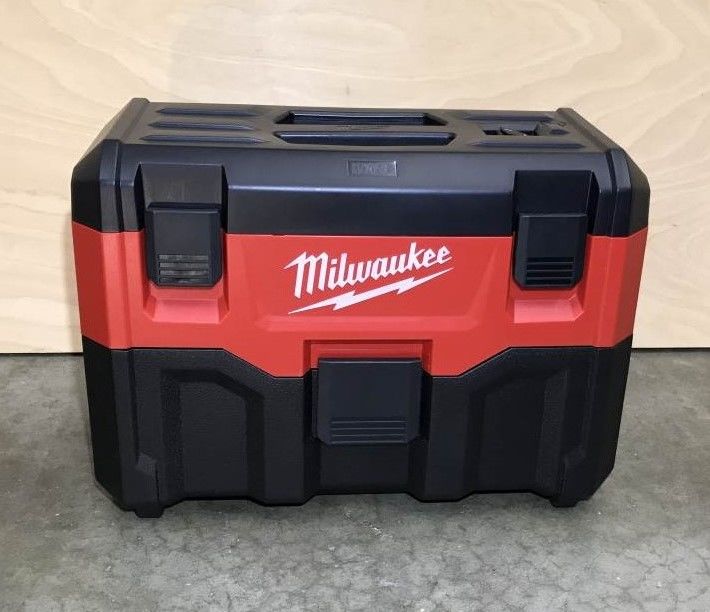 THE BEST CORDLESS SHOP VAC
If you're looking for the best cordless shop vac when it comes to performance, design, and price, the 0880-20 might be the one for you. Its 18-volt battery (sold separately) generates 45 CFM of suction through its 1 ¼" hose to clean up wood chips and sawdust with ease. The stackable design looks more like a tool box than a vacuum and is strong enough to sit on. The included HEPA filter Captures 99.97% of all particles greater than 0.3 microns and works with either wet or dry materials. Click here for a closer look at the 0880-20.
The Good: 45 CFM, Excellent attachment storage design
The Not So Good: Nothing
CORDLESS SHOP VACS WORTH CONSIDERING
The Makita XCV11Z has the most powerful motor of any vac in our lineup. 57 CFM through its 1" hose is outstanding, but bigger wood chips can sometimes get caught in the undersized hose. You'll get longer run times with the brushless motor and two speed settings for varying the amount of suction to the job. A great wet/dry vac, but is also the most expensive in our list.
The Good: Great CFM
The Not So Good: 1" diameter hose, Price
The DeWalt DCV581H doesn't have as much suction power as either the Milwaukee or the Makita, but it's the only vacuum in our lineup that can run on 18 or 20-volt batteries for portability or on the included AC cord for longer timed jobs. The 1 ¼" diameter hose is a little short at only 5 feet long, but if you're looking for a solid portable wet/dry vac that can do double duty, the DCV581H might be the best one for you.
The Good: Runs on either battery or cord
The Not So Good: A little low on the CFM
Being as Porter Cable and DeWalt are both owned by Black and Decker, it's not surprising to see many similarities between the PCC795B and the DCV581H. Just think of the Porter Cable version as the DeWalt model, without the cord. The PCC795B runs only on 20-volt batteries and has the same 34 CFM rating. Porter Cable has included a super-long (7'8") hose and is offered at a super-low price.
The Good: Long Hose, Price
The Not So Good: A little low on the CFM, Non HEPA filter
The Ryobi P3240 pulls an excellent 45 CFM through its 1 ¼" diameter hose. The largest capacity (3 gallons) means you can suck up more debris between emptying than any other vac in our lineup. If you already have tools that are part of Ryobi's 18V One+ System, the P3240 might be the best cordless shop vac for you.
The Good: 3-gallon capacity, 45 CFM
The Not So Good: Non HEPA filter
I always chuckle when I see the websites with the reviews of tools when they say "we spent over 20 hours evaluating these tools, trying to simulate real world conditions in our test lab" and that is somehow supposed to convince you that that makes them some kind of authority on the subject. And because they've spent all that time, you therefore should trust them to recommend the Best Cordless Shop Vac.
I guess maybe there is some value in knowing that a brand new tool with a brand new battery was able to suck one gallon of water in 6.4 seconds twenty times before the battery ran out of juice, but you might want to know how well that tool performs after it's a few years old. Or you might want to know if the tool can hold up to daily use and abuse like it is subjected to in the actual real world.
Over the last 30 plus years as a general contractor, I've been making my living using these tools at jobsites day in and day out. My crews and subs make their livings using these tools too. And we all talk. Word quickly gets around about an innovative new design, and probably even more quickly when someone made the mistake of buying a piece of junk.
There's nothing worse than spending your hard earned money on a tool that you are expecting to make it easier and faster to tackle all kinds of projects around the house, only to find out that the tool comes up miserably short of meeting your expectations. My goal here is to keep you from buying that piece of junk.
Why You Need A Cordless Shop Vac
Everyone needs to have a shop vac. There's no better tool for cleaning up the messes we make day in and day out. Up until recently, the only viable option has been corded models. Their powerful motors and large diameter hoses are perfect for vacuuming up most any kind of debris. But portability has never been their strong suit. With all the advances in battery technology, cordless shop vacs have finally entered the realm of respectability and are definitely worth considering. In a perfect world you would have one corded shop vac for big jobs and for running with your power tools and a lightweight portable model for quick clean up jobs around the house or on the jobsite.
Cordless Shop Vac Features- What's What and What's Important
Power is one of the more important features when deciding what is the best cordless shop vac. Most manufacturers of corded shop vacs list the motor rating in Horsepower, but not in the cordless market. The best gauges of power are Cubic Feet Per Minute (CFM) and suction pressure (water lift or sealed pressure). CFM is a measurement of the velocity of air flow. The higher the CFM, the more air it can move. Suction pressure is listed in inches, although some manufacturers don't publish this number. Suction picks up the debris and the airflow moves it down the hose so the best shop vacs have a combination of good ratings for both characteristics.
Typical corded shop vacs have hoses sized in the 2 1/2" diameter range while cordless models tend to have 1 ¼", which allows for better performance with smaller motors. Keep in mind that a smaller diameter hose is more prone to clogging with larger pieces of debris.
Battery power is measured in volts. While there are numerous manufacturers producing 12-volt batteries, the majority of them fall into the toy category and aren't worth considering. The 18-volt and 20-volt models are the most popular, and rightly so, because they have plenty of power for most any task. At the extreme end of batteries is DeWalt's 60-volt beast.
Battery capacity is expressed by how many Amps for how many hours a battery will last before needing to be recharged. Typical quality batteries will be rated between 1.4 ah to 9.0 ah.
There are two types of batteries commonly used in cordless tools- Nickel Cadmium (NiCd) are the old technology containing environmentally unfriendly cadmium, and the far superior Lithium Ion (Li-Ion) models. Lithium Ion batteries provide longer run time, more power, and are lighter than NiCd batteries. They cost a bit more, but are worth it.
There's nothing quite as frustrating as putting your project on hold because your battery needs charging. I recommend buying two batteries, so you can always have one charged and ready to go. Charging time varies greatly, but most are reasonably quick, in the 30 to 90-minute range.
Is brushless really better or is it just the latest trendy "must have" marketing feature? To be Honest, it's yes to both questions. Brushless motors in cordless shop vacs are technically better because their design reduces the friction involved with the brushes, providing a little more power and extending the battery run time. Will you notice the difference in power? Probably not. The downside to brushless motors is they cost more, but they are undoubtedly better. The Makita XCV11Z is the only model in our lineup to boast a brushless motor.
Typical cordless shop vacs range from about $80 to $170 dollars depending on brand and features, for just the vacuum without batteries or charger.