Best Home Air Quality Monitor
Air is one of the most essential elements for survival for human beings. What may come as a surprise though is that indoor air quality can be 10x more polluted than outdoor air quality.
Poor air quality circulating in your home i.e. infused with contaminants can cause health issues such as eyes, nose, skin and throat irritation, headaches, fatigue, and in worse cases can affect you and your family's long-term overall health.
An indoor air quality monitor is a great way to monitor the air quality in your home or office. This compact device is a highly affordable and convenient way to keep tabs on the quality of air you're breathing 24/7.
And some of the best home air quality monitors even allow you to check on temperature and humidity among others, and stay updated on mobile devices when you're away.
Buying the best home air quality monitor however can be a bit overwhelming, given the myriad options available. But here are three great options to consider along with a home air quality buying guide to ease your buying decision.
*I hope you'll love the products I recommend! Just so you know, Plumb and Lined may collect a share of sales or other compensation from some of the links on this page.
BEST HOME AIR QUALITY MONITOR - COMPARISON TABLE
Kaiterra Laser Egg+ Chemical
The Kaiterra Laser Egg+ Chemical is our #1 pick in the home air quality monitor segment, owing to its rich set of features, and portable design.
It is designed to monitor the major pollutants that contribute to poor air quality including temperature, humidity, VOC's (chemicals) and PM 2.5 (fine dust), and renders highly accurate results.
Even though the Laser Egg+ weighs just over 1 lbs and showcases a compact footprint, there's a lot going on under its hood. For starters, its optical sensors are engineered to count the individual particles in the air.
Furthermore, this portable home air quality monitoring device is powered by Kaiterra's innovative cloud-based calibration technology, which collectively with the sensors provides real time readings from reference-grade monitors located across the globe.
The Laser Egg+ Chemical home air quality monitor fits easily in the palm of your hand, and gives you the freedom to monitor the quality of your indoor air from literally anywhere on your mobile device via an API key used over the internet.
Once the device is preconfigured with the level, you can access historical trends, and receive alerts when you're home or away from home. The Laser Egg+ can be powered in two different ways – one by plugging it into an electrical outlet, and second with the included battery, which when fully charged provides continuous monitoring for up to eight hours.
It adheres to international AQI standards, and can be paired with the app to receive updates, and to configure its settings. The Laser Egg+ is also compatible with other home appliances via Apple HomeKit and IFTTT, which when setup properly triggers the device to run on autopilot.
Lightweight and compact design
Tracks several different types of pollutants
8-hour battery life
Mobile alerts
Delivers accurate results
Initial setup process may be a bit fiddly
IGERESS Multifunctional Indoor Pollution Detector
The IGERESS Indoor pollution detector is a handheld device that measures 15 x 6.5 x 3.5 cms, and is engineered to monitor temperature, humidity, PM2.5/PM1.0/PM10, volatile organic compounds (TVOC) and formaldehyde (HCHO). It is appointed with clear and crisp LCD display that displays test results, and other types of data.
This multifunctional home air quality monitor is easy to operate with its simple system settings and 10 keys. Adding to this, the device is also easy to calibrate, where you start by removing it in the midst of fresh air, turn on the device, head to the calibration interface, and start auto calibration.
Calibrating the device takes roughly 5 minutes, and must be done before first use. It is also worth mentioning that you may have to calibrate the device in three different instances i.e. when you use it for the fist time, if the results aren't accurate or when reusing the device after storing it for more than three months.
The IGERESS Indoor Pollution Detector is powered by a rechargeable battery, which can be charged when battery juice is low with a USB cable and charger. It provides real time readings and sounds an alarm when the air quality drops below the recommended level.
This home air quality monitor by IGERES is embedded with class leading advanced sensors, so the results it renders are extremely accurate. The device will start detecting the quality of the air in your space three minutes after it's turned on.
It is equipped with a fan, which cools the sensors, so it may be a little noisy at startup. The IGERESS air quality monitor is not recommended for high temperature and humidity environments. The package includes the device, user manual, USB cable and USB charger.
Handheld design and USB charging
Monitors temperature, humidity, PM2.5/PM1.0/PM10, volatile organic compounds (TVOC) and formaldehyde (HCHO)
Easy calibration and use
LCD display
Comes with USB cable and charger
Does not come with carry case
Temtop M10 Air Quality Monitor
The Temtop M10 slots in at the #3 position on this list of best home air quality monitors, most notably for its ability to monitor a wide range of organic pollutants in the air such as AQI, PM2.5, TVOC, and HCHO. It is equipped with the company's third generation laser particle sensor, which along with the particle swarm optimization algorithm delivers accurate and stable results.
It uses a professional grade QSI laser diode as a light source to enhance stability, and a fan to improve overall consistency. The electromechanical sensor of the Temtop M10 home air quality monitor is based on an electrochemistry theory for more accurate detection, and to provide an accurate number of formaldehyde molecules in the air.
With regards to the sensor, it arrives factory calibrated by professionals, so it's ready to gauge the quality of air right out of the box. The Temtop M10 home air quality monitor boasts a compact footprint of 3.2 x 1.2 x 3.2 inches, and is powered by an onsite 2200 mAh battery, which runs for at least six hours when fully charged.
It features a 4-in-1 multi-functional cubic design, and comes with three indicators for battery levels and alarm. The air vents, charging port, and reset button are neatly arranged at the back of the device. The Temtop M10 air quality monitor can be refreshed by double clicking on the screen, making it easy to use for young and old.
Cubic design
Can detect a wide range of pollutants
Industry leading electromechanical sensor
Factory calibrated
Powered by rechargeable 2200 mAh battery
3 indicators for battery and alarm
App doesn't show local temperatures in Fahrenheit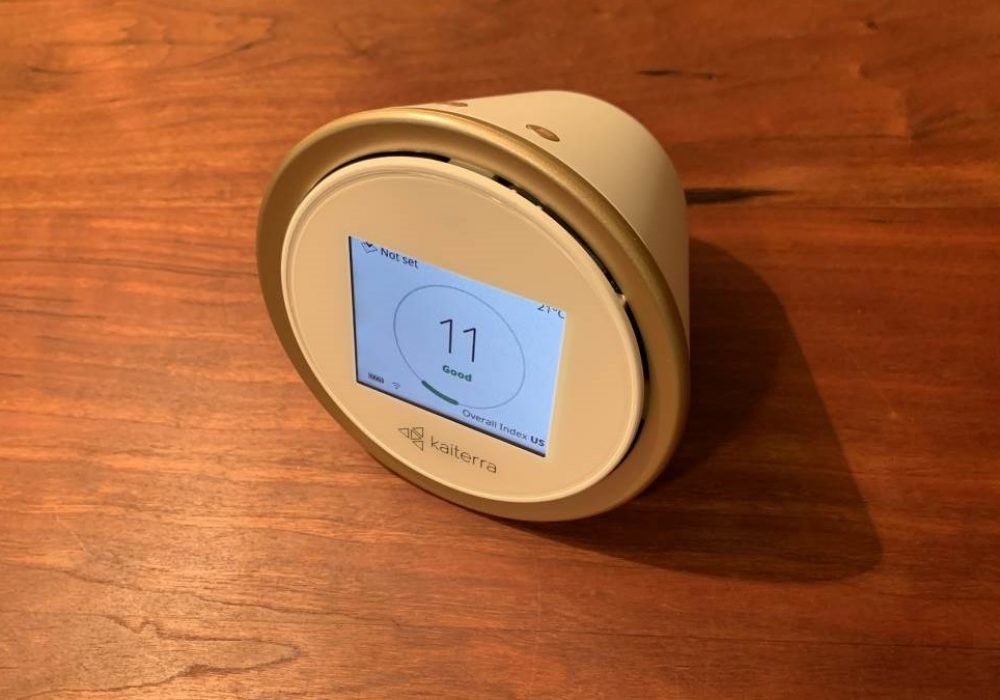 BEST HOME AIR QUALITY MONITOR BUYING GUIDE:
There are several factors to consider when deciding on the best home air quality monitor including:
The indoor air quality monitor should have the ability to detect a wide range of pollutants such as VOCs, and temperature.
This range of monitors are available as handheld devices and table top designs, and the one you choose depends on where you'd like to set it.
Air quality monitors can be pricey devices, but if you want highly accurate results, then buy one that is backed by the latest technology.
Most of the devices mentioned on this list can be connected over WiFi to download updates, historical and current data. Some can even be configured to send alerts to your mobile device when you're away, so you can keep tabs on the quality of air in your home around the clock.
Portable home air quality monitors are powered by either rechargeable batteries, electric outlet or both. Look for devices that can be charged easily, and offer great run time per charge.
This allows you to keep tabs on real time results right on the device rather than on an app.
HOME AIR QUALITY MONITOR FAQ's:
What are the main pollutants in the air?
The top indoor air pollutants are PM2.5 – mix of droplets and particles in the air, VOCs (short for volatile organic compounds) that can cause short and long term health effects, and temperature and humidity – high levels can affect your comfort and promote mold and mildew growth.
When is air quality at its best level during the day?
Experts say that the air quality is best during noon and 6 pm, and tends to get polluted during the night.
How do home air quality monitors work?
Indoor air quality monitors are embedded with sensors, which detect pollutants and record the results.
Research indicates that more than 9 out of 10 American homes suffer from poor air quality issues. Poor air quality can be caused by several different things such as high humidity and excessive dust, and what's worse is that these issues go undetected until they cause allergies or serious health issues. The indoor air quality monitors on this list feature advanced sensors, can detect poor air quality, and render accurate results to keep you and your family healthy.